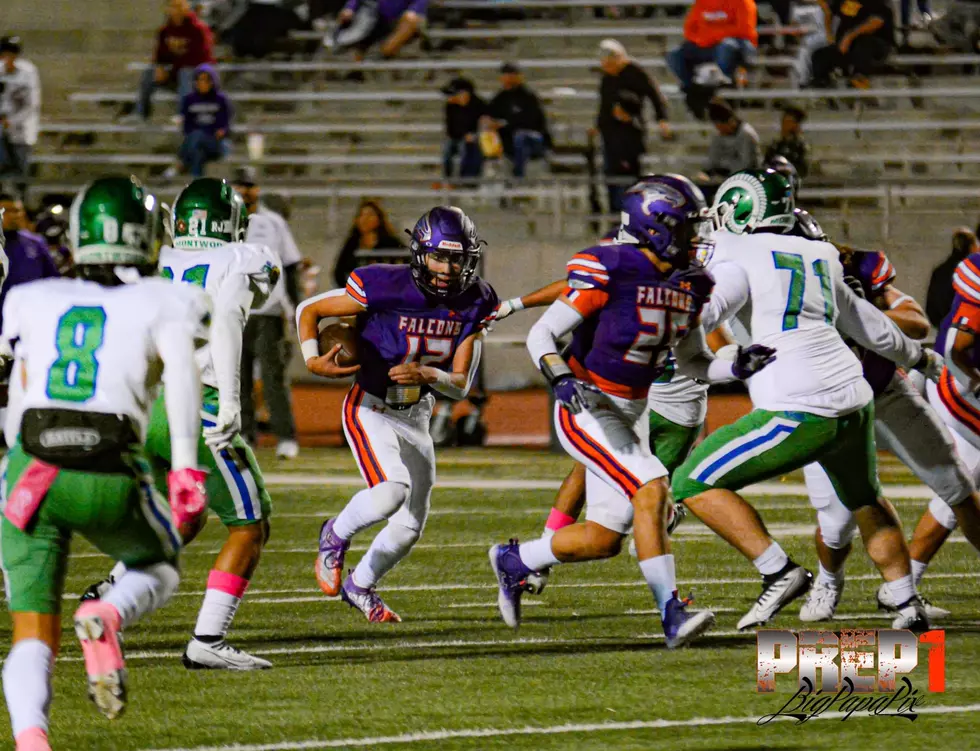 District Standings, Full Schedule and Week 8 High School Football Preview
Photo courtesy of Prep 1
Football Friday Night is back for another week with Mark Miller and Paul MacKinnon calling the action starting at 7 with all of our reporters scattered across town to report on the games. Stay up to date by downloading the 600 ESPN El Paso mobile app to hear all the coverage in real time. Follow us on 600 ESPN El Paso on Twitter for live scoring updates.
Full Standings
Here are five things to know for this week:
Last night's games:
Eastwood 59 - Socorro 7
Bowie 28 - Irvin 21
Game of the Week: Franklin vs. Eastlake 
In a game with a district title feel, the Cougars (4-2, 3-1) will host the top team in all of 1-6A in the Eastlake Falcons (6-1, 5-0).
The Cougars are coming off a bye week and a disgruntling 43-42 loss to Montwood, which was seen as a significant upset by the Rams. Prior to the loss, Franklin was unbeaten against El Paso teams. Franklin is led by the tandem of junior quarterback Shay Smith (1,280 passing yards, 458 rushing, 24 touchdowns and 2 interceptions) and senior wide receiver Beau Sparks (49 catches, 717 yards and 12 touchdowns). The high-powered Cougar offense averages 494 yards per game.
They will arguably face the best defense in the city in Eastlake, which averages 3.1 sacks and 1.5 turnovers per game. Senior linebacker Hector Hinojos leads them defensively with 15 tackles per game and 5.5 overall sacks. The Falcons have done whatever it takes to win games in 1-6A play, edging out Coronado (35-21) and fending off Americas (24-22) earlier this year. Offensively, they use all of their weapons like wide receiver Isai Perea (92.8 receiving yards per game), quarterback Luke Lomeli (1,059 passing yards, nine touchdowns and three interceptions) and running back Jeremiah Escamilla (320 rushing yards, two touchdowns).
This should be a great game that could go down to the wire. I'm going with the home team upsetting the big dogs of 1-6A.
Prediction: Franklin 49 - Eastlake 48  
District showdown: Canutillo at Andress
Amid a 2-4 season, the Andress Golden Eagles returned their standout ATH Malcolm Anderson to the mix. Will it be enough to try and upset top district contender Canutillo (4-2, 1-0)?
The Golden Eagles are coming off a convincing 27-7 win against a depleted El Paso High squad. In his first three games back from injury, Anderson is averaging 98 rushing yards and 34 receiving yards per game, with three touchdowns. They are able to balance the ground attack between him and quarterback Elias Duncan. The problem that has been evident with Andress is turnovers on offense.
On the other hand, Canutillo dealt with injuries to their best player LJ Martin earlier this year. Now, the Stanford commit is back and as good as ever, averaging 142 rushing yards per game. The Eagles' defense compliments the strong running game that the offense has. Brother duo in linebacker Jesus Carrillo (1 sack, nine QB hurries, 9.4 tackles per game) and defensive back Eduardo Carrillo (four interceptions) lead them on defense.
Prediction: Canutillo 38 - Andress 17 
Does El Paso High have playoff life? 
The Tigers, who started off with three wins to the season, have since lost three straight. Jefferson enters Friday's game with a two game losing streak as well. Something has to give on Friday.
Between the 0-1 teams in district—Burges, El Paso and Jefferson—one school has to emerge to capture the fourth and final playoff spot. This might be El Paso High's best chance to try and get a win against one of these squads.
Jefferson is led by running back Miguel Rubio (130 yards per game) and ATH Roman Gomez (six total touchdowns). El Paso High is led by wide receiver Pablo Gonzalez (72.3 yards per game).
Prediction: Jefferson 27 - El Paso 13
6A clash: Montwood vs. Pebble Hills 
Though the Rams (2-4, 2-2) have shown fight in district play, they will have the tough task in trying to pull off an upset against Pebble Hills (6-1, 4-1).
Two weeks ago, the Spartans fell in an unexpected loss to Americas, 23-21. In that same weekend, Montwood pulled off the upset against Franklin. We know the Spartans are vulnerable while still being a dominant force to face.
The Spartans are led by quarterback Gael Ochoa (1,091 passing yards, 14 touchdowns, two interceptions) and wide receiver Jalil Bost (535 yards, nine touchdowns). While young, the Rams have some playmakers across the field. The offense is led by junior tailback Izayuh Claudio (468 rushing yards, eight touchdowns), junior wide receiver Diego Oaxaca (832 yards, 10 touchdowns) and senior quarterback Isaac Galvan (1,936 passing yards, 18 touchdowns, five interceptions).
Prediction: Pebble Hills 56 - Montwood 31
Chapin has a new identity on offense 
Since starting the season 0-4 and lacking an identity, the Chapin Huskies may have found an identity in back-to-back blowout wins against Chaparral and Jefferson. Head coach Ryan Warner threw different options at quarterback this year and appears to have wholly revamped his offense in the past two weeks.
It's freshman ATH Daveon Singleton who has taken over at quarterback and looks as explosive as the Huskies need him to be. He was a reliable running back through the first four weeks and during their homecoming game against Chaparral, Singleton took over at quarterback. Through a pair of starts, he has thrown for 185 passing yards, rushed for 136 yards and totaled seven touchdowns.
Tonight will be a fellow district test against a Burges team hungry for a win. The Mustangs have a balanced offense led by quarterback Andrew Routledge (706 passing yards, six touchdowns, four interceptions) and running back Andrew Armendariz (128 rushing yards).
Prediction: Chapin 20 - Burges 17 
UTEP Squeezes Past NM State 20-13 in the Battle of I-10
In a game of two halves, the Miners won their first game of the 2022 season against NMSU, 20-13.
More From 600 ESPN El Paso