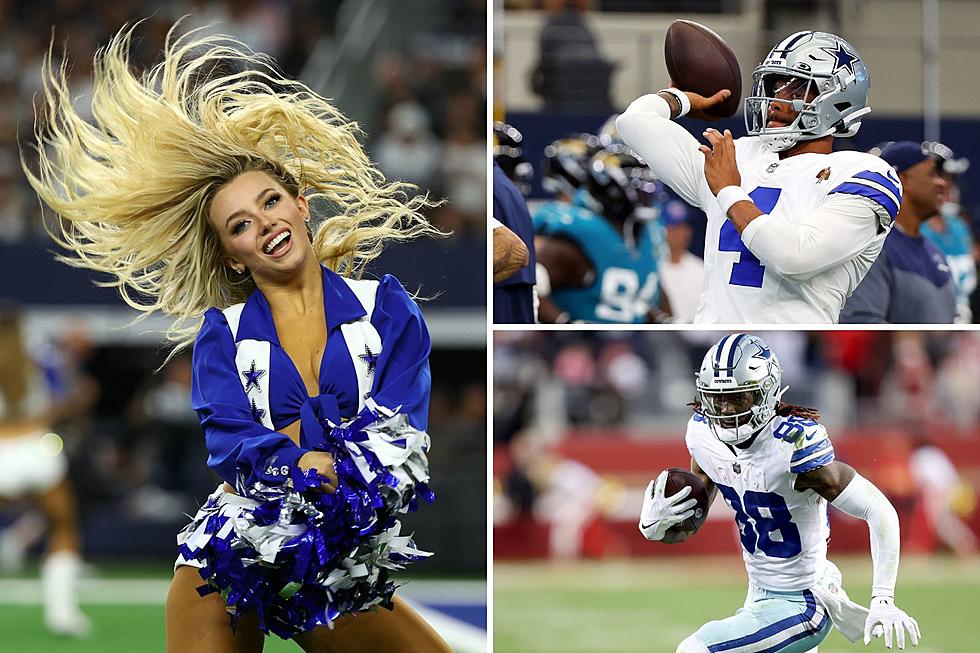 Here's How You Could Win a Dallas Cowboys Flyaway Trip
Getty Images/Canva
How 'bout them Cowboys? The team Texans love through every triumph and heartbreak once again takes to the field this fall for the savage ballet that is football, and we're giving the superfans of El Paso, TX an opportunity to be there for all the best plays.
The KLAQ and 600 ESPN Dallas Cowboys Flyaway is back, and it's powered by Miller Lite (the only beer of the Cowboys), Vizzy Hard Seltzer, CS GSO Construction Innovations, and 915 Tours!
What Can I Win?
Get ready, Cowboys fans. Things are about to get real.
We're looking to send you and a friend to a game with:
Airfare for 2 From El Paso to Dallas and Back
2 Tickets to a Cowboys Game
A Stay at the Omni Las Colinas Hotel
2 Meet & Greet Passes with a Former Cowboys Player Courtesy of 915 Tours
An Invitation to the Ultimate Tailgate
$100 Spending Money
Now, imagine all that, but the 2 tickets are for the big Thanksgiving Day game! Scroll for more details on how that prize works.
Which Games Can I Win Tickets To?
| | | |
| --- | --- | --- |
| Giveaway Date | Game Date | Cowboys Vs. |
| Aug 31 | Sept 17 | NY Jets |
| Sept 14 | Oct 1 | New England |
| Oct 12 | Oct 29 | LA Rams |
| Oct 26 | Nov 12 | NY Giants |
| App-Exclusive | Nov 23 | Washington (Thanksgiving) |
| Nov 9 | Nov 30 | Seattle |
| Nov 22 | Dec 10 | Philadelphia |
| Dec 7 | Dec 30 | Detroit |
What Are The Rules?
This contest adheres to our general contest rules with these additions:
This is a multi-station promotion (KLAQ-FM, KROD-FM). You must be age 21 or older and be a legal resident of Texas in order to win.
Drawings held on August 31, 2023, September 14, 2023, October 12, 2023, October 26, 2023, November 9, 2023, November 22, 2023, December 7, 2023. Winners registered at sponsor locations will be chosen randomly from all cumulative entries submitted on-location at the businesses mentioned in this post.
For the Thanksgiving Day game drawing, a winner registered online will be chosen randomly from all cumulative entries submitted via the app-exclusive easy entry form further down this page.
List of on-location businesses for entries may change during the course of the promotion.
If we cannot reach the first qualified winner of a given drawing within 24 hours, we will draw a second winner. The second winner will be contacted immediately. If the second winner cannot be reached within two (2) hours of the second drawing the second winner will be deemed ineligible and the process will continue likewise until a winner can be reached.
How Can I Enter To Win?
When it comes to winning a flyaway to one of the games on the schedule above (with the exception of the Thanksgiving game - details on that below), you need to get registered at one of these sponsor locations:
-Casa Buick GMC
6800 Montana Ave, El Paso
-Any of These Oscar Arrieta Insurance Agency Offices
6450 N Desert Blvd Ste H103, El Paso
1506 Lee Trevino Dr Ste D-1, El Paso
10110 Montwood Dr A, El Paso
5738 Trowbridge Dr, El Paso
-Any of These El Paso Applebee's Locations
7956 Gtwy Blvd E, El Paso
1985 George Dieter Dr, El Paso
1350 George Dieter Dr, El Paso
5800 N Mesa St, El Paso
1766 Airway Blvd, El Paso
440 Redd Rd, El Paso
4700 Woodrow Bean Transmountain, El Paso
3460 Joe Battle Blvd, El Paso
12271 Eastlake Blvd, El Paso
13780 Horizon Blvd, Horizon City

-New Start Homes
14141 Gateway Blvd W, El Paso
-Border City Ale House
1506 Lee Trevino Dr Suite G, El Paso
-WinSupply El Paso
1465 Henry Brennan Dr, El Paso
-One Source Federal Credit Union
8870 Gazelle Dr, El Paso
5730 Cromo Dr, El Paso
So How Do I  Enter To Win Tickets to the Thanksgiving Game?
Use the app-exclusive easy entry form below to register for the big Turkey Day game. It's just that easy! We'll pick a winner at random in a digital drawing. Be sure to include your contact info so we know how to reach you if you win.
You must have our free app to see and use the entry form below. Get it here.
Good luck to you and to our Dallas Cowboys!
More From 600 ESPN El Paso