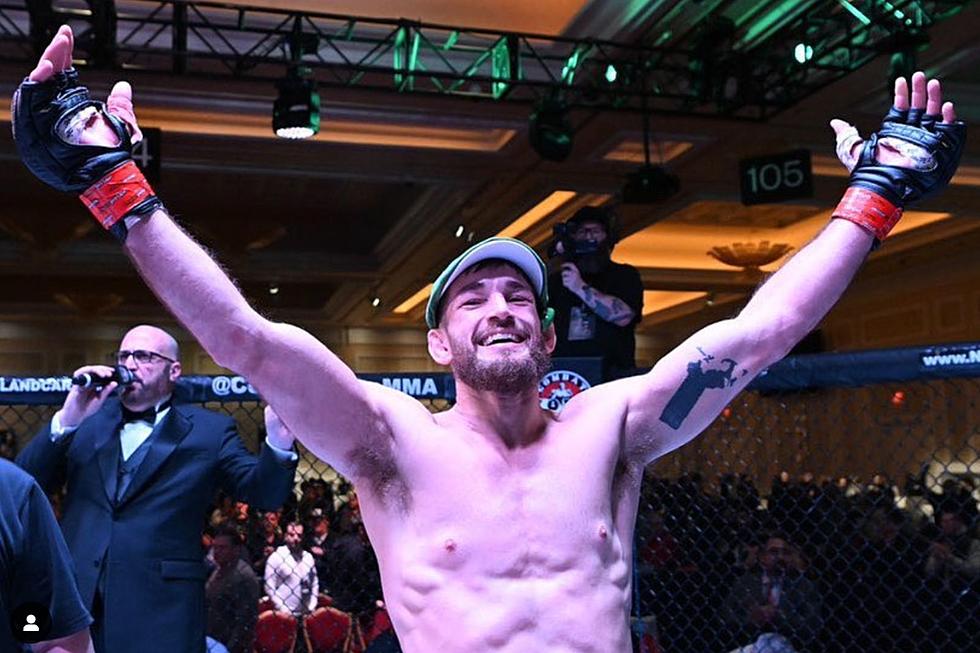 Freetown MMA Fighter Wins In Front of Dana White at Combat Zone 79
Combat Zone/Instagram
Professional MMA fighter and Freetown native, Connor Matthews, improved his record to 6-1 Wednesday night at Combat Zone 79 at The Encore in Boston.
While every victory is worth celebrating, this latest win was extra special.
UFC President Dana White was in the crowd and watched this local fighter shine under the bright lights.
Dana White's "Lookin' for a Fight"
As the president of the most recognizable organization in MMA, it is up to Dana White to scour the country for the most talented fighters. Alongside MMA veterans Din Thomas and Matt Serra, the three men star in the popular series Dana White: Lookin' For a Fight as they travel the country in search of top prospects by attending local MMA shows and handing out UFC contracts to the fighters who shine.
On Wednesday night, their search for the best talent in the nation landed them in Boston, where Connor Matthews was headlining the show.
Who is Connor Matthews?
Matthews spent six years of his life as a combat controller for the Air Force, calling in medical supplies and airstrikes, and working as the point of communication from the air to the ground. When he returned to everyday life, he used martial arts to help deal with the mental trauma of war, and since then, has cemented himself as one of the top featherweight contenders in New England.
Last year, he got the call to fight for Dana White's Contender Series and lost, but Matthews wasn't going to give up his dream of being in the UFC.
Matthews Shines Bright In Front of Dana, Again
When Matthews walked out onto the catwalk and headed for the Combat Zone cage, the place erupted. The crowd and the energy were fully in Matthew's corner, and if Matthews had any nerves, they didn't show. He was laser-focused on getting that UFC contract.
In the first round, Matthews sunk in a tight rear naked choke submission, and the crowd went nuts.
"It feels really good getting a win over a guy like Andrew Cruz, he's a tested (and) tough opponent," said Matthews. "I felt very calm and in control the entire fight...I showed my improvements in all areas...I'm hoping Dana sees that I'm ready to go against the best guys in the UFC."
Was it enough for Dana to award the contract to Matthews? Stay tuned and catch Dana White: Lookin' For a Fight on ESPN+ and Hulu.
Weird Sports It's Now Legal to Bet On in Massachusetts
You might not know what floorball is, but you can now bet on it.
More From 600 ESPN El Paso