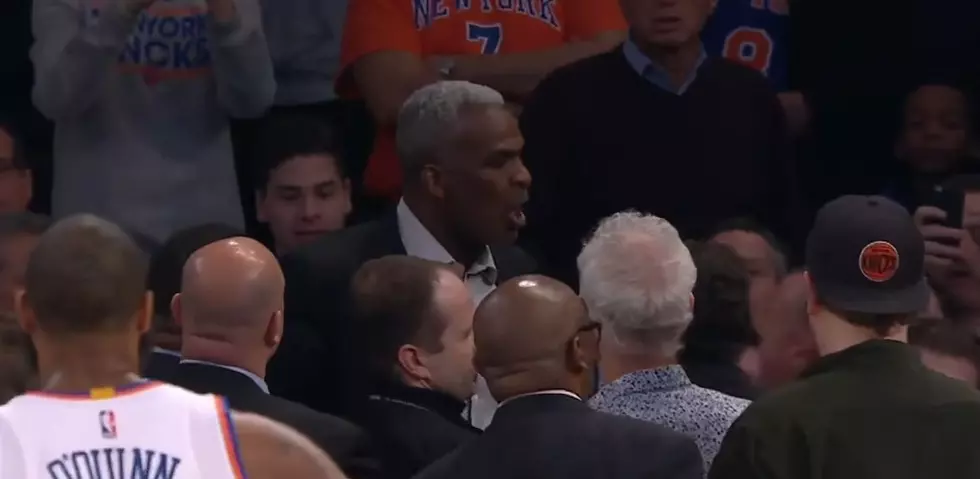 Charles Oakley Arrest Another Embarrassment for New York Knicks
Ximo Pierto Final via YouTube.
Last night's game between the New York Knicks and Los Angeles Clippers featured one of the most bizarre incidents to happen at a live sporting event. Former Knicks enforcer and fan favorite Charles Oakley was escorted out of Madison Square Garden and later arrested after being confronted by security.
If anyone remembers Oakley as a power forward for the Chicago Bulls and later the Knicks, he was considered the enforcer for those teams. Knicks fans loved #34 long after he was traded by the franchise to Toronto for Marcus Camby in 1998.
According to New York Daily News NBA writer Frank Isola, Oakley purchased his tickets to last night's game and was seated a few rows behind Knicks owner James Dolan. Midway through the first quarter, security approached Oakley and asked him why he was at MSG. The former Knick has not been shy about criticizing Dolan and the team in recent years, and has not been welcomed back to the arena since then.
In the nearly 20 years since Oakley has been part of the Knicks, the organization has been nothing short of an embarrassment. They have struggled to make the playoffs in most years, failed to lure top free agents to New York, and continue to charge top dollar prices for their fans to watch games at MSG. Phil Jackson, who was hired as team president a few years ago, has done nothing to improve the franchise. Instead, he has been trash talking on social media with Carmelo Anthony, the current face of the team, in order to try and force him to waive his no-trade clause.
Despite last night's incident at The Garden, Charles Oakley still considers himself a Knicks fan.
"As long as the fans care about me, I love the fans, and I'm a Knicks fan for life no matter if I go back to The Garden or not," Oakley said to ESPN after getting released from a Midtown jail. "I'm still going to cheer for the Knicks because I played here for a decade, my heart and soul are here."
As a longtime Knicks fan, some of my fondest memories are from the Ewing-Oakley era. Charles Oakley showed more fight last night than the current team has for much of the season. Instead of banishing him from MSG and sending him to jail, the Knicks should be embracing the man who gave them their heart, soul, and identity for ten years.
More From 600 ESPN El Paso