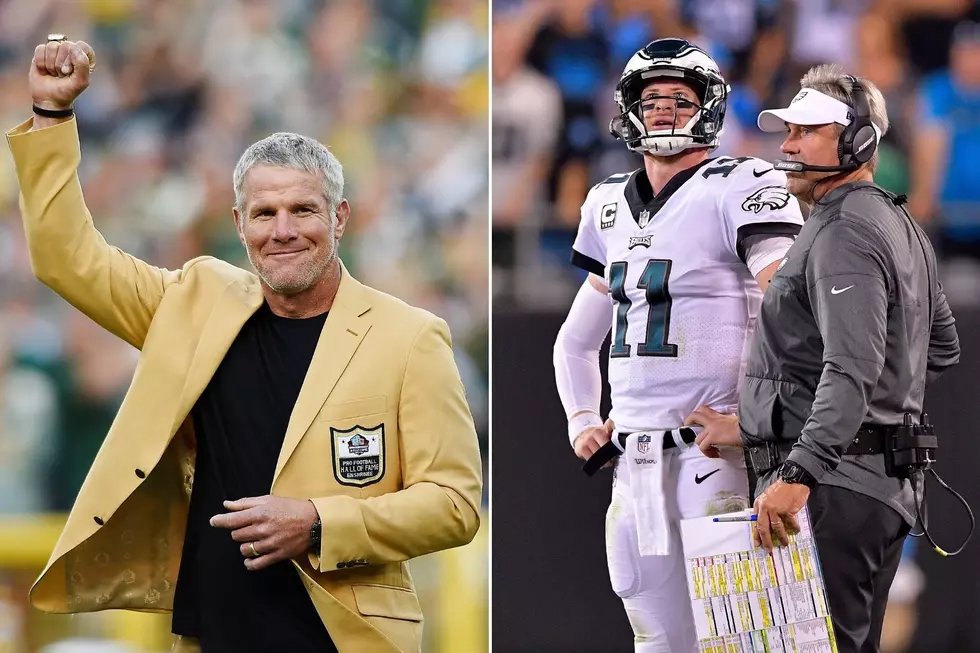 Brett Favre Weighs In About Carson Wentz, Eagles, Nick Foles
-Brett Favre: (Photo by Hannah Foslien/Getty Images) -Carson Wentz and Doug Pederson: (Photo by Grant Halverson/Getty Images)
First Take Host/Moderator Molly Qerim Rose set the stage by asking Favre the starting question of is Carson Wentz capable of being the Eagles Franchise Quarterback:
"I think he is very capable - I know he has to stay healthy and the (players) around, I'm not saying they are good enough or not good enough, but they have to stay healthy and have some consistency.  Sometimes I don't even know who he is throwing to, but (the Eagles) have just been riddled with injuries and that in itself has certainly not helped Carson and he has been injured himself.  So play a full season with your guys and let's see what you are capable of."
After Favre gave his answer, the mainstay panelists on the show Max Kellerman and Stephen A Smith chimed in with their opinions.  Then Favre followed up their comments with more thoughts on Carson Wentz:
"(Wentz) has the tools - I'm going to air on the side of lack of consistency, who are you throwing to more than anything, (Eagles) have had to mix and mingle players in and out.  Now, that being said, other Quarterbacks have managed to handle that very well, so I get the other side of the argument that you got to make it work."
Things on First Take got interesting when Brett Favre, without any provocation, offering up this opinion on the Eagles picking Wentz over Super Bowl MVP Nick Foles:
"I actually thought (the Eagles) should have kept Nick Foles rather than Carson Wentz just based off of production and where they got to, they won a Super Bowl with Foles and that was a little but surprising.  But obviously they are banking on (Wentz) upside...How many more years do you let it linger before you stick with him or cut bait?  That's only a question they can answer."
Nick Foles two seasons under Doug Pederson produced a 6-2 record as the Eagles starting Quarterback with a 66.9 Completion percentage while compiling 12 Touchdowns and 6 Interceptions along with a 4-1 record in the playoffs.  Carson Wentz has a large sample size during his time with Doug Pederson, compiling a 35-28-1 record with 63.1 Completion Percent along with 109 Touchdowns and 47 Interceptions.
Before the end of their segment on First Take, Brett Favre went out of his way to clarify that the Eagles problems and issues this season are not Doug Pederson's fault.  Pederson was the backup Quarterback for Favre for a total of seven years and it is well known they are good friends off the field.  Here's what Favre said about Doug Pederson:
"But I know Doug (Pederson), of course we were together for a long time, he's a very simple coach, he's going to put you in the best opportunity to succeed, he's not going to complicate things, so I know (the Eagles problems) is not Doug.  So I'm going to write it off as too many injuries right now, I'm going to give (Doug Pederson) the benefit of the doubt."
The irony in all of this: Carson Wentz has said multiple times that his idol growing up was Brett Favre and there has been conjecture that Wentz tries to emulate Favre in his style of play at times.  So all of these comments by Favre about Wentz and the Eagles definitely raises some eye brows.
A couple weeks ago, Doug Pederson was asked during one of his Media Zoom Calls about if he sees some Brett Favre in Carson Wentz's style of play and if Wentz attempting to make big plays is similar to what he saw from Favre years ago:
"Well, that was always the thing with Brett, the reward was definitely greater. But you knew there was going to be some risk involved. Carson obviously has the ability to do that. He's got the arm strength, the mobility to extend plays with his legs. I would think the one thing that we're seeing with Carson now, the same thing I saw with Brett, is that physical toughness, being able to stand in the pocket, take some hits, bounce up, and do it again. To me, that's kind of some of the similarities there. Carson is solid. He's getting better every week. Again, had a great comeback yesterday for us. That's some of the same things that obviously I saw in Brett when I played with him."
Eagles Quarterbacks With The Most Wins Since 1980
More From 600 ESPN El Paso