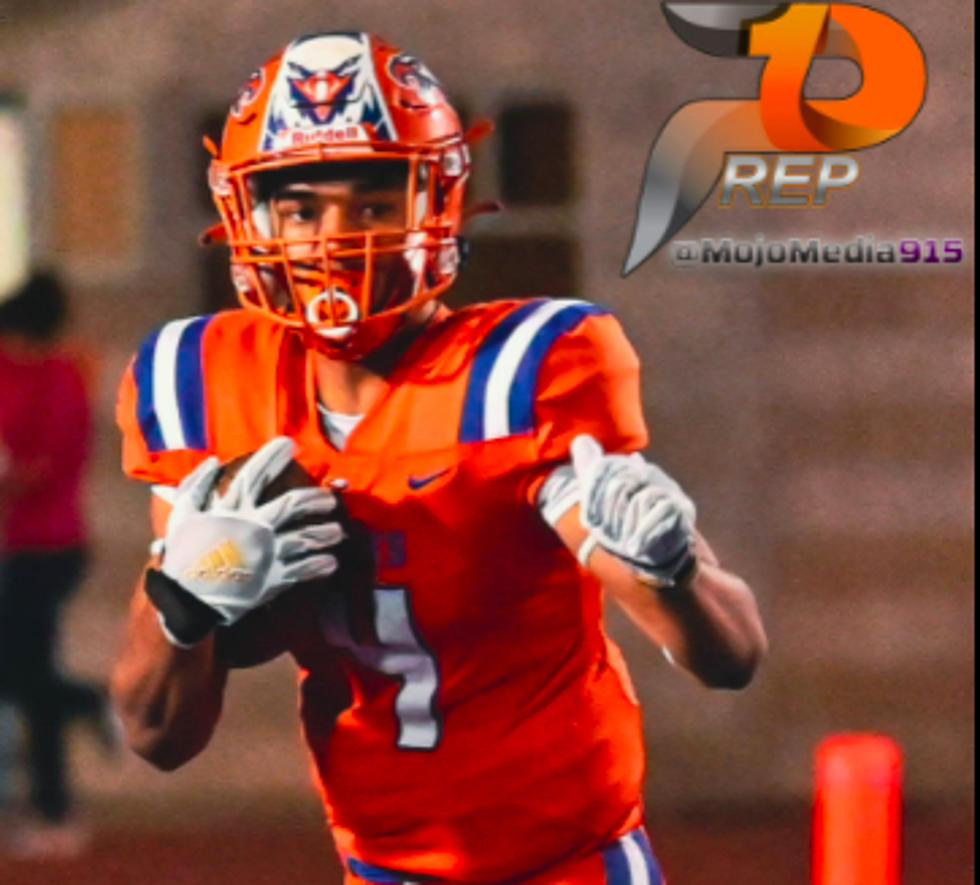 Blowouts Across Town Headline Week Nine in High School Football
MojoMedia915|Prep 1
Week nine of high school football is in the books featuring lots of blowouts across town. Read up on all the featured games, recaps and view the standings.
Catch up on all of the games and the recaps below by our reporters, and stay tuned for Football Friday Night on demand!
Catch up on scores via Scorestream here, and check out photos by Prep 1 on their Facebook page for sights across town.
In-Town Standings
Austin 30 - El Paso 6: Austin Destroys El Paso High in 91st Edition of "Battle of the Claw"
By Brandon Cohn
In one of the top 100 high school football rivalries in the country, Austin defeated El Paso High at R.E McKee Stadium to claim the claw trophy on Friday night.  The Panthers' stifling defense combined with the explosive play of RB Jayden Wilson, was too much for the Tigers to overcome in the 30-6 victory for Austin.
The Panthers took an early 7-0 lead at the 6:13 mark of the opening quarter thanks to an 11-YD TD run by Jayden Wilson.  El Paso High made it a game as they scored late in the first half when QB Gerry Chairez found RB Pedro Chavez for a 25-YD score with 4:30 left in the half.
The Panthers took a 14-6 advantage at halftime and never looked back.  Jayden Wilson took a halfback option pass with 1:38 left in the second quarter and threw a 32-YD TD pass to WR Sebastian Morales on a razzle dazzle shtick play.
Jayden Wilson would finish with 228 yards on 30 carries and three touchdowns, (2 rush, 1 pass.)  Austin moved to 5-3, 3-1 2-5A D II and will play a challenging road game at Jefferson next Friday.  El Paso High is now 3-5, 2-2 2-5A D II, and will host Andress next week.
Eastwood 84 - Socorro 20: Troopers hammer Bulldogs 
By Jaime Chavez
Eastwood quarterback Adrian Martinez threw six touchdown passes as the Troopers routed the Socorro Bulldogs 84-20 Friday night at Eastwood's Trooper Stadium. Martinez fired four of those TD passes to wideout Aaron Rodriguez, for 57, 16, 25 and 2 yards. Martinez's two other scoring strikes went to Curtis Murillo for 56 yards and Samuel Lopez for 16 yards. Lopez scored on runs of 55 and 7 yards and rushed for 95 yards on 8 carries. Martinez was 13 of 16 for 251 yards, six touchdown and no interceptions, in three quarters of play. Socorro's Bryan Leyva tossed a pair of touchdown passes of 16 and 8 yards to Isai Aguilar and Isaiah Edgerton added an 11 yard TD run. Eastwood (4-4, 2-3) travels to Coronado next week while Socorro (1-7, 0-5) hosts Eastlake on Thursday.
Eastlake 50 - Montwood 0: Eastlake uses Uribe's explosive start to cruise past Montwood
By Jeremy Carranco
It doesn't appear that anyone can slow down Elijah Uribe. The senior found the endzone three times in the first half, helping his Falcons dominate Montwood 50-0 Friday night at the SAC.
In all, Uribe carried the ball for 140 yards on 13 carries. He did not play in the second half.
Uribe was one touchdown shy of tying the city record last week, finding the endzone eight times in a 59-41 win against Eastwood. A performance which gave him honors as the Class 6A Texas Built Ford Tough Player of the Week.
The Falcons used a balanced attack in the second half getting to see carries from junior Jeremiah Escamilla while airing it out with Sebastian Rendon and Adrian Lopez, who connected for three touchdowns on the night.
Rendon finished with 198 yards passing while Lopez had 101 receiving.
The Rams were without their star receiver Yamil Oaxaca and running back Izayuh Claudio, who missed the game due to injuries suffered last week against Americas.
Kevin Melendez did what he could for the Rams, leading the way with 84 yards passing and 45 on the ground.
Montwood (2-6, 1-4) will look to regroup and get healthy before facing Pebble Hills next week.
The second-place Eastlake Falcons (6-1, 4-1) will face Socorro.
Riverside 70 - Mountain View 0: Riverside rolls over Mountain View 70-0
Riverside quarterback Angel Munoz accounted for five total touchdowns, while the Riverside defense dominated their duties to give the Rangers a four-game win streak with a 70-0 demolition of Mountain View Friday night at Lobo Stadium.
Riverside outgained Mountain View 536-120 and scored on nine straight offensive possessions to improve to 8-1 overall, and 3-0 in district 1-4A play.
Rangers running back Jose Guardado ran in four first half touchdowns, rushing for 85 yards on just eight carries, and hauled in a 63-yard touchdown pass from Munoz right before halftime to give the Rangers a 49-0 halftime lead.
Munoz finished with 187 passing, 142 yards rushing, he threw four touchdown passes and scored a rushing touchdown. He has now accounted for 33 total touchdowns this season.
Riverside's defense held Mountain View to just two first half yards of total offense and two first downs in the opening half which set the tone for their fourth straight win.
During the four-game win streak, Riverside has averaged 66 points per game, and will play Clint next week for the inside track for a district 1-4A title.
Canutillo 54 - Hanks 10: Eagles blow past Knights 
By Adrian Broaddus
In a largely lopsided contest, Canutillo rolled past Hanks, 54-10, behind a fantastic performance by junior running back LJ Martin.
The class of 2023 prospect finished with 372 (unofficial) yards and five touchdowns in the game, including a 95-yard rushing touchdown. The Canutillo defense forced three turnovers, including an interception by Isaiah Chavez and Jeremiah Ramos, along with a fumble recovery by Jesus Carrillo.
Hanks quarterback Marcus Porras hit Idalius Coleman multiple times on the night, but the team struggled to establish a ground game via Xavier Johnson.
Next up, the Eagles (8-1) will have a bye week while the Knights (1-7) face Horizon next Friday.
ALSO: Former Minnesota Twins All-Star's Home for Sale - Complete With Brewery
More From 600 ESPN El Paso