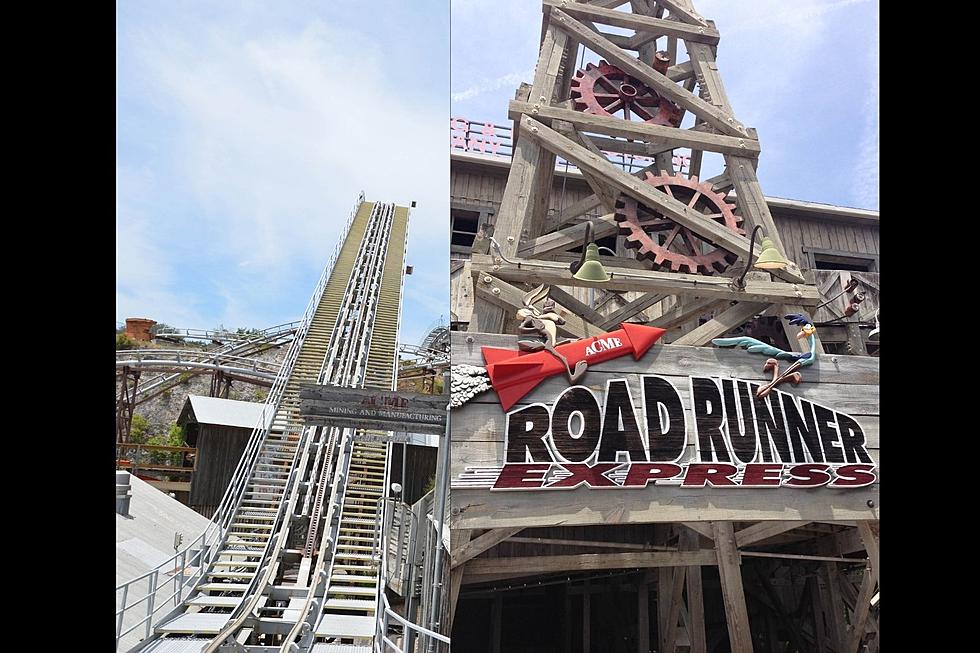 Another Roller Coaster Gets Stuck at Fiesta Texas
(2) J.Padierna.TSM
Back to the topic of thrill rides getting stuck mid-ride.  Yesterday, 'The Road Runner Express' at Fiesta, Texas got stuck on the way up the first lift hill freezing the ride train mid-air in which passengers had to be rescued.  A social media post went up yesterday afternoon on the Laredo Daily News Facebook page.  If you are not a fan of heights the below picture might make you a little uncomfortable. However, I have been on the ride many times and know it is not that steep. Somebody changing the angle to make the picture more dramatic. [SEE PICTURE BELOW]. What do you think?
STUCK AGAIN:
This is the second time that a rollercoaster has gotten stuck at Fiesta, Texas THIS MONTH.  If you remember back on June 1st, twenty-two guests were
rescued from the Poltergeist
. Unlike the Poltergeist, the Road Runner Express is only considered a moderate thrill, topping out at only 35 miles per hour.  The ride debuted during the 1997 season and appeals more to families with preteen children.  The Poltergeist debuted in 1999, bringing up a very valid question. Are the Fiesta Texas rides starting to show their age?
HOW OFTEN ARE RIDES INSPECTED?
According to the Six Flags website, all rides are inspected every day, before the gates open to their guests, and all rides and attractions are thoroughly inspected by maintenance technicians and operations staff. The ride is put through a  series of sessions that simulate different aspects of ride operations. These maintenance efforts are an integral part of their daily safety routine. However, mechanical failures don't always follow theme park schedules.
SOUND OFF:
Have you ever been stuck on a theme park or carnival ride? What was your experience? If not, would getting stuck on a ride keep you from getting on that ride ever again? Let us know in the Facebook comments of the
JPS TOP EIGHT THRILL RIDES
SURPRISING WAYS TO KEEP COOL THIS SUMMER
Have you heard of any of these?
50 Famous Brands That No Longer Exist
More From 600 ESPN El Paso