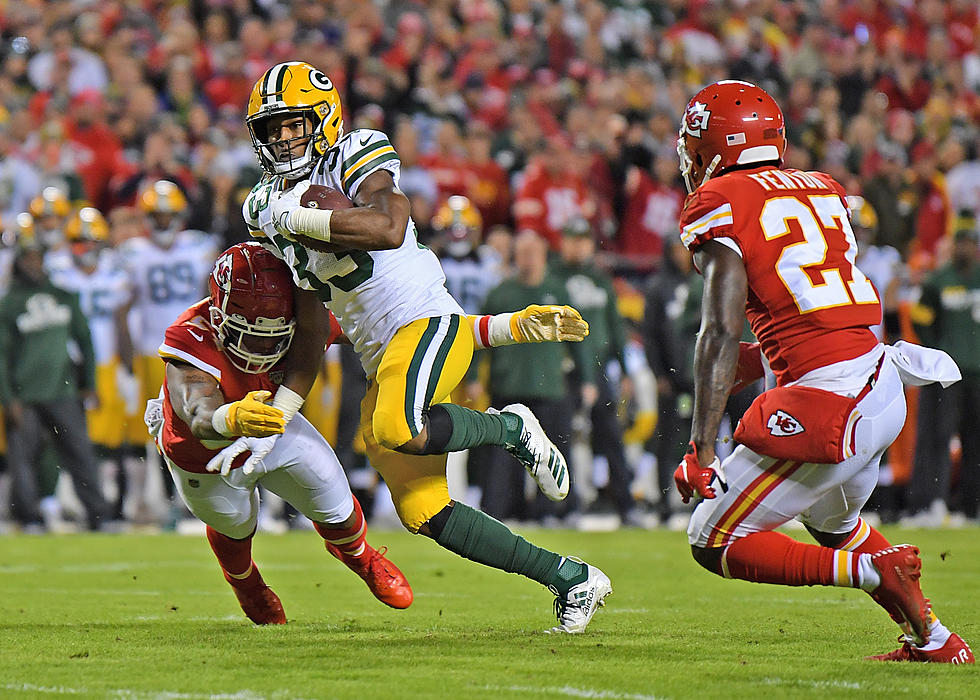 Aaron Jones, Packers Continue to Roll as El Paso Watches in Awe
Getty Images
In a highly contested Sunday Night Football matchup between the Packers and Chiefs, both teams were tied 24-24 with just over eight minutes left in the game. On second-and-short, Packers quarterback Aaron Rodgers dished a screen pass to running back Aaron Jones, which led to a 67-yard sprint to the end zone, where he maneuvered through defenders and locked the eventual 31-24 road victory over Kansas City.
Jones had a career night—20 touches, 226 total yards (67 rushing, 159 receiving), two touchdowns—to add to his growing resume. He became the first Packers running back with 150-plus receiving yards in a game since the merger, per ESPN Stats & Info.
In a bigger picture, the Packers are rolling despite their growing list of injured receivers, credited to production from skill players like Jones. In the last four games without star receiver Davante Adams, Jones has 271 rushing yards (4.9 yards/carry), 280 receiving yards, averages 138 yards per game and has seven total touchdowns.
"I didn't do a whole lot besides get the ball to [Aaron Jones] and let him do his thing," said Rogers, who threw 305 passing yards and three touchdowns against KC. "He's a special guy."
This year, he has totaled 466 yards on the ground, averaging 1.3 yards after contact, along with 355 receiving yards and 11 total touchdowns. He leads the NFL in total touchdowns — eight rushing and three receiving, and leads his team with 34 receptions for 355 yards (10.4 average).
He is the featured running back in the Packers system and always receives praise from his teammates. While the criticism toward former Green Bay coach Mike McCarthy harped on him not using Jones as much, first-year head coach Matt LeFleur sings his praises in the offense and isn't shy about using him as much as he sees fit. At just $695K per year, Jones might also be one of the best bargains in the league by his position, which saw the Rams' Todd Gurley sign the highest running back contract in history last year, along with Cowboys' Ezekiel Elliot resetting the market this year on a six-year, $90 million contract.
And through eight games, Jones and the Packers look like one of the fiercest teams in the NFC.
For now, here are my top-5 Aaron Jones highlights, dating back to his college days:
Honorable mention: Packers vs. Bucs (2017)
In this one, Showtyme went to Austin and made the Longhorns remember him afterward. Jones rushed for 123 yards in the loss and chipped in with a nice touchdown.
4. UTEP vs. Texas Tech (2014)
In 2013 we got a little glimpse into what Jones could be on the ground. The big gripe against him was the opponents that UTEP faced during his time. Well, this was his first "biggest" test and AJ didn't disappoint. He rushed for 114 yards and scored twice on the night.
3. UTEP vs. North Texas (2016) 
This was seriously the best Showtyme performance from college and it's not even close—301 rushing yards and FOUR rushing touchdowns. It felt right from the junior tailback and even then, it felt like a sending off performance. A month and a half later from this game, Jones announced that he would declare for the NFL Draft.
2. Packers vs. Cowboys (2017) 
Again, in 2016, we got plenty of "firsts" in Jones' NFL career. But this game in 2017 felt like a break-out fiesta for 33. He was in his hometown state and absolutely blasted through in the Packers' 35-31 win. Jones rushed for 125 yards and had a touchdown against the Cowboys. After this, teams really took notice.
1. Packers vs. Cowboys (2019)
Jerry's World became Aaron's universe this season, where Showtyme finished his most complete performance of his young career. AJ struck the Cowboys with 107 rushing yards, 75 receiving yards and had four total touchdowns on the day. From stiff-arming Jaylon Smith to waving "bye-bye" as he scored a touchdown, this was by far the most fun I've had watching Jones in action.
More From 600 ESPN El Paso