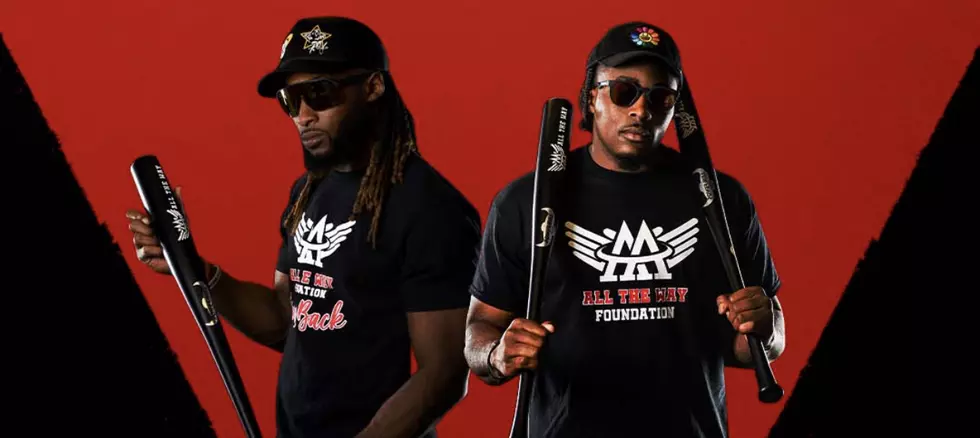 A&A Charity Softball Game Roster Release Features Big Names
A&A All The Way Foundation Charity Softball Game
As part of its inaugural charity softball game, the A&A All the Way Foundation unveiled the celebrity rosters for both the Vino All Stars (Alvin Jones) and Showtyme All Stars (Aaron Jones) that features NFL players, local celebrities and other sports figures.
Both teams will battle each other in the softball game that is set on Friday, June 24 at Southwest University Park. The professional football players and former UTEP football standouts in Aaron and Alvin will host a home run derby, softball game, silent auction and a raffle at the event.
Proceeds raised from the event will benefit the foundation's primary focus areas: youth recreation and fitness, children's basic needs, and military families.
The roster features NFL players with UTEP ties such as Nik Needham and Eric Tomlinson. Former Miner standout safety Quintin Demps is joining Team Vino. Local standouts John Skelton (former NFL QB) and his brother Stephen Skelton are also in the game.
Other current NFL players Eric Stokes (CB, Green Bay), Dexter Williams (RB, Green Bay), Jamaal Williams (RB, Detroit), Jaylinn Hawkins (safety, Atlanta), Kylin Hill (RB, Green Bay), DeShon Elliott (safety, Ravens) and Rasul Douglas (CB, Green Bay) are playing in the softball game as well.
Denver Nuggets guard Bryn Forbes is playing in the charity softball game. Former major league baseball players Omar Quintanilla and Cody Decker are on opposite squads. Local personalities like Krystall Poppin, Erika Castillo and Dickey Williams will participate in the matchup.
Here's the full roster:
HOME TEAM:
Vino All Stars
Chris Carson
Erika Castillo
Cody Decker
Quintin Demps
Rasul Douglas
DeShon Elliott
Eva Hoyt
Mark Medrano
Nik Needham
Krystall Poppin
John Skelton
Eric Stokes
Ryan Urrutia
Jamaal Williams
VISITING TEAM:
Showtyme
Aaron Jones
Rachel Barraza
Bryn Forbes
Jaylinn Hawkins
Cynthia Hernandzz
Kylin Hill
Omar Quintanilla
Sampson Rivera
Jamie Rodriguez
Stephen Skelton
Eric Tomlinson
Joe Tofferi
Dickey Williams
Dexter Williams
More From 600 ESPN El Paso