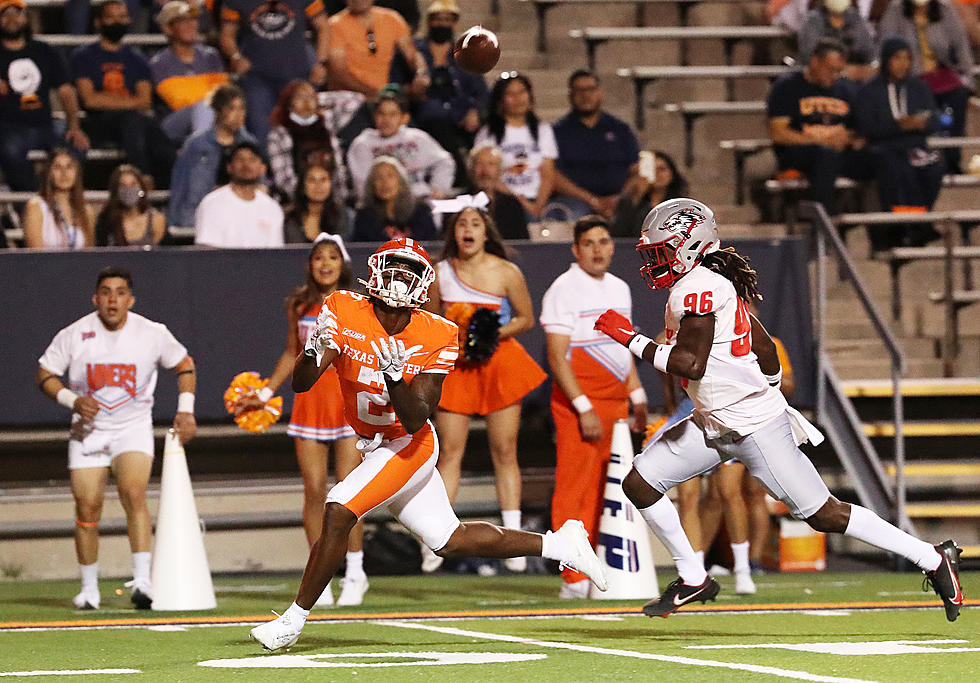 A Final Goodbye to 11 Football Players Ahead of UTEP Senior Day
Ruben Ramirez/UTEP Athletics
Besides Saturday's contest being a must-win game for the Miners (6-4, 3-3 C-USA) against Rice, the home finale will be an opportunity for the seniors to play one more game at the Sun Bowl.
Kickoff is set for 2 p.m. tomorrow and the game can be heard on 600 ESPN El Paso. The Oscar Arrieta Agency is giving away 1,500 seat cushions at the north entrance for UTEP fans. After the broadcast, we will have MinerTalk on 600 ESPN El Paso.
QB Isaiah Bravo - Cerritos College / West Covina, Calif.
The senior from California has added depth to the quarterback room since he stepped foot on campus in 2019 as a transfer from Cerritos College. He was actually the quarterback for Justin Garrett in junior college at Cerritos, wher he threw 32 touchdowns with 3,333 passing yards in 21 career games.
Bravo is known as a veteran leader in the locker room. One might see him call plays from the sidelines to quarterback Gavin Hardison. When Bravo joined SportsTalk earlier this year, he said: "As an older guy, I try to guide some of the younger guys. I am Gavin's personal hype man. They know I'm just as hard on them as anyone. I have a big brother role to these guys."
CB Josh Caldwell - Cerritos College / Long Beach, Calif. 
Cornerback Josh Caldwell has grown year after year under this program. He's played in 31 games for the Miners since 2018 and is known as one of the best corners on the squad this year. Caldwell's best season came in 2019, when he was fourth in C-USA for pass breakups (11). This season, he's dealt with injuries but still has three pass breakups for the Miners, along with 25 total tackles.
OL Bobby DeHaro - Montwood HS / El Paso, Texas 
As a hometown kid, Bobby DeHaro has been among the most consistent offensive linemen in Conference USA. He is a three-time All-Conference Honorable Mention (2018, 2019 & 2020). He has started in every game he's been a part of since he was a freshman at UTEP, showing off his durability and consistency that he has with the squad. It will be hard to replace a four-year starter like DeHaro for the Miners. He is someone who continues to prove that local prospects can have success at the college level, especially for his hometown team.
WR Justin Garrett - Cerritos College / Compton, Calif. 
How much can we really say about Justin Garrett? This man has been a leader on and off the field for the UTEP football squad. Garrett is a two-time All C-USA honorable mention (2019 & 2020) after his first two seasons with the team.
Over his three seasons with the Miners, Garrett has totaled 118 receptions, 1,498 receiving yards and nine touchdowns throughout his career. Garrett continues to pay tribute to the late Luke Laufenberg throughout the 2021 season. Luke passed away at the age of 21 on Thursday, August 22 in 2019. Garrett wears his #2 Laufenberg jersey throughout the season.
Hard to imagine that his first touchdown was just over two years ago.
LB Breon Hayward - Marshall / Houston, Texas 
As a transfer from Marshall, Breon Hayward has emerged onto the scene in 2021 as one of the cornerstones of the defense. He has totaled 84 tackles this year, along with 6.5 tackles for loss, 1.5 sacks and a fumble recovery for a touchdown. Hayward first exploded onto the scene in 2020 for UTEP when he had 16 tackles against North Texas.
Hayward could flirt with All Conference honors at the end of this year. He should be remembered as one of the best pure tacklers that UTEP's seen in years.
S Dy'vonne Inyang - Kilgore College / Missouri City, Texas 
Dy'vonne Inyang has risen from a junior college standout to a top safety in all of Conference USA. He's hard-hitting and consistent in pass coverage. This year has been his most productive, as Inyang racked up 28 solo tackles, 4.5 tackles for loss, three pass breakups and two interceptions.
Inyang started every game in 2020 and ended last year with 32 tackles, two tackles for losses and two forced fumbles. He has missed the past two games with an injury, but Inyang indicated on social media that he would return for Senior Day on Saturday.
OL Darta Lee - Kilgore College / Alief (SWAT), Texas 
The offensive lineman from Texas has been a left tackle for the UTEP football team since 2018. He played in 12 different games leading up to this season and he has been a big help to the offensive front since he got to UTEP. Lee joined SportsTalk this week and reflected on his job on the o-line.
"As a bigger guy, I don't look for the stats. My glory is knowing that I did my job in order for something good to happen. I love that part of the game. I love being under the radar and doing my job."
FB Forest McKee  - Onate HS / Las Cruces, NM
It's hard to believe that it will be the end of fullback Forest McKee in a UTEP uniform. The Las Cruces native, who is a Barstool Athlete per his Twitter page, has done an excellent job of bouncing back from a torn ACL last year. He's played for the Miners this year as a do-it-all fullback. He has two receptions this year for 19 yards. McKee is one of UTEP's most seasoned players, having played under Sean Kugler, Mike Price (interim, 2017) and Dana Dimel. His spark and veteran leadership will be missed on the squad.
CB Walter Neil Jr. - Kansas State / Lawton, Okla. 
The former Kansas State cornerback left the Big 12 school after he had 10 starts at the cornerback spot in 2019, where he totaled 21 tackles, 1.5 tackles for loss, two pass breakups and an interception. Neil Jr. joined the Miners in 2021 as a graduate transfer.
This season, Neil Jr. has totaled 17 solo tackles, 26 total tackles, 2.0 tackles for loss and two pass deflections. He made an immediate impact for the team this year and despite dealing with minor injuries, Neil Jr. has played in every game for the Miners.
DT Josh Ortega - Montwood HS / El Paso, Texas 
As a hometown product, Josh Ortega understands what hard work in the program can lead to. He went from redshirting in 2016 to seeing action sparingly in 2017, and then saw significant playing time from 2018-2021. He played in 22 games from 2018-2019 before getting injured in 2020. He bounced back in a big way this year as a key defensive end for the squad.
He has 53 tackles throughout his career, along with 4.0 tackles for loss, 3.0 sacks and a safety.
"I don't pride myself on stats. Where I pride my game is doing my job and being reliable whenever I'm in. When I go in, I don't ever try to go for the big plays, I just want to do my job."
RB Quardraiz Wadley - Kennedale HS / Kennedale, Texas 
Injuries plagued the career of Quardraiz Wadley, who has been dealing with injuries for the past three years. Though, he was still one of the most elite running backs to play for the Miners in recent memory. He exploded onto the scene for UTEP in the 2016 as a backup to Aaron Jones. Wadley ended his true freshman season with 168 rushing yards on 47 attempts. He followed that up with a 277 rushing season in 2017, which he missed most of the year due to injuries.
Wadley's best year came in 2018, in which he led the squad with 627 rushing yards and one touchdown. He suffered a season-ending injury in fall camp before the season started in 2019. After being named a starter in the Stephen F. Austin game, Wadley opted out of the 2020 season. This year, he's played in just four games as he continues to battle through injuries.
UTEP basketball beats WNMU 85-57 in Season Opener
Ruben Ramirez | UTEP Athletics
More From 600 ESPN El Paso