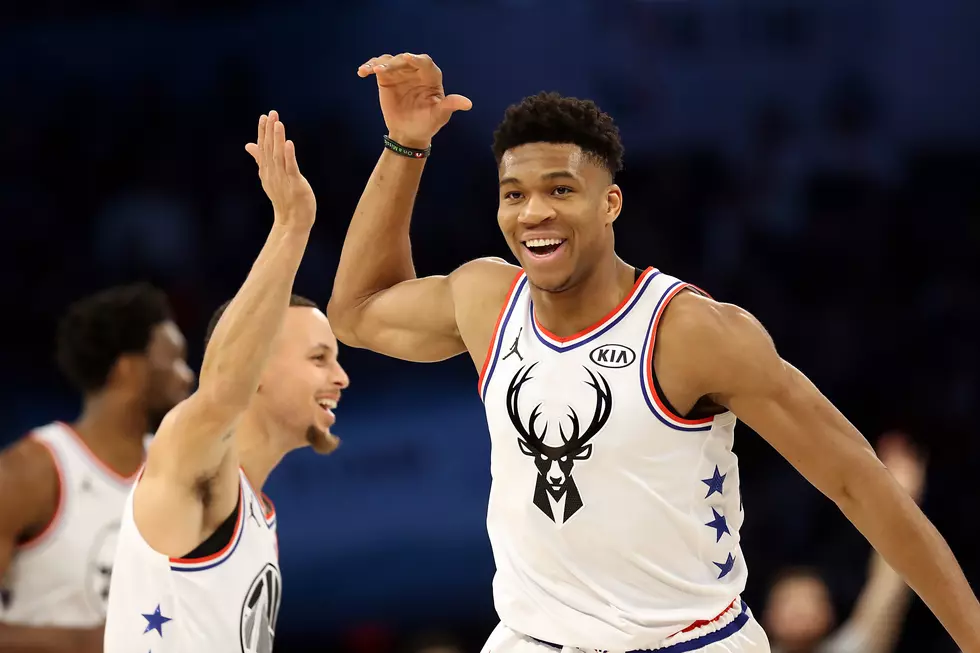 10 Predictions for the End of the Season After NBA All-Star Weekend
Streeter Lecka/Getty Images
As All-Star Weekend came and went, the final 25 games of the NBA mean final playoff pushes for some teams, tanking for other teams or fine-tuning for the few championship contenders.
And as the final 25 games are in effect, here are some predictions as the regular season comes to a close and the playoffs hit:
10. Toronto will finish first in the East... again
In the mix of Toronto hitting a nice stride and adding more talent to the roster prior to the All-Star break, it makes you step back and think that this Raptors team is far different than their disappointing 2017 finish. They don't have DeMar DeRozan or Dwayne Casey anymore; instead, they have Nick Nurse and Kawhi Leonard, with quiet additions of Danny Green, Marc Gasol and, more recently, Jeremy Lin.
No, they might not be the shinest bunch, but they're all scrappy and starting to form something nice together. Pascal Siakam is a contender for Most Improved Player in the league. OG Anunoby, a steal from last year's draft, is starting to grow into himself as well. Kyle Lowry continues to be himself, which is both a blessing and a curse, but Kawhi keeps him honest on the court.
Kawhi is quietly averaging 27/7/3, but he now has a chance to amp it up through this final stretch. Milwaukee isn't going to slow down, but Toronto will finish just slightly better and secure back-to-back first place seeds.
9. OKC makes a tough push for second place, but just misses it
How fun are Billy Donovan's bunch in OKC? Well throw out everything you knew about Donovan's coaching history and throw in a bunch of grit-and-grind players that rebound, chase after each possession and have one of the best defenses in the NBA—that's your 2018-19 Thunder team.
Paul George is making his MVP case with his 28/8/4 stat line—all while shooting .45/.41/.84—and Russell Westbrook is doing all the dirty work on the floor, averaging a triple-double (21/11/11).
It's exactly what the team needed and it will serve well for them come playoff time. Barring a first-round series against the Lakers, OKC should win their first playoff series with ease and make a strong push in the second round.
8. Philly will close out the season similar to last year
Last season, "The Process" closed its overachieving regular season on a 16-game win streak and were probably the scariest team entering the playoffs. If it weren't for Al Horford utterly shutting down Joel Embiid in the Boston-Philly series, we may have been talking about a Cleveland-Philly Eastern Conference Finals series.
But anything less than an NBA Finals appearance would be a disappointment to the 76ers, who have both Jimmy Butler and Tobias Harris on a season rental before they enter free agency.
It won't be the question of their depth, however. It will be whether not Embiid, Butler, Harris and Ben Simmons can take their game to the next level and finally get over the teams that give them the biggest headaches (Boston).
Philly has all the tools to close out their season on a huge run that can give them confidence entering the playoffs. On the flip side, the 76ers can underperform, which would make them have to prove themselves in the playoffs—and probably couldn't get them out of the second round. I'll take the first, though, and say that Philly closes this season by losing seven games or fewer.
7. Boston gets it together, but it still doesn't seem sustainable
When Boston turned the corner in their win over Philly after falling to both the Clippers and the Lakers, it was all fine and dandy until you realize Boston didn't have their leader in Kyrie active against the 76ers.
Enough with the drama, Kyrie. This final stretch is the perfect opportunity for Kyrie to rally around the young, yet extremely talented bunch. The ceiling for this Boston team is contesting Golden State for the Finals. But the floor is a devastating one—a second-round exit for the preseason Eastern Conference favorites.
So if Boston fans have any hope that Kyrie will stay, you have to hope they make to the Eastern Conference Finals—and even that might not be enough to keep him in Boston. Danny Ainge and the Celtics' boat-load of draft picks still make a Kyrie-less team up for contention, though.
6. Denver might need to rely on its secret weapon(s)
The amazing Nikola Jokic, who is coming off his first All-Star appearance, has been a treasure to watch this year. It probably won't decline soon either because of his nice group of helpers in Jamal Murray, Will Barton, Gary Harris, Paul Millsap, among others
But where does this end? If this were an Eastern Conference team, we might be talking about Denver as a championship contender. But it's the wild, wild west, where the two biggest threats to Golden State—OKC and Houston—have yet to show what they are fully capable of in the last stretch.
Jokic cannot do it himself, so then we turn to the x-factors on this team: Michael Porter Jr. and Isaiah Thomas. Porter Jr. has missed the majority of the season due to a back injury, but Denver hasn't ruled him out for the season yet. IT will need to earn his minutes, but if he's a rotational player by the end of the season, the Nuggets could strike gold with a great off-the-bench presence by IT.
5. We can trust Giannis' support—but how much?
Want a reason other than Giannis Antetokounmpo's MVP run to declare Milwaukee a true contender? How about an NBA-best 9.5 point differential to send them over the edge? That should do it.
When examining this roster beyond Giannis, there aren't too many areas to be extremely excited for. Are you going to call Khris Middleton their second-best player? He probably is. But when Eric Bledsoe/Malcolm Brogdon are behind Middleton, how comfortable can you be?
Not too, too comfortable.
I'll say this though: their supporting cast off the bench made up of Nikola Mirotic, Ersan Ilyasova and Donte DiVincenzo make for a nice bunch that could win them playoff games. Question is, how many can this team win?
4. Golden State finishes the season with a 20-5 record or better
Five All-Stars, including two of the three best players in the league in a single lineup. Need I say more?
3. LeBron silences the haters with an easy playoff berth
All this nonsense of LeBron missing the playoffs needs to stop. The 2017 Cavs were the worst Lebron-led team since the '08-09 Cavs, yet LeBron still secured a playoff spot and made a finals appearance.
Barring serious injuries on the Lakers, they should make the playoffs this season. They've never truly been healthy all season long, and once Lonzo Ball returns to the mix, the Lakers will be at full strength for the last playoff stretch.
This also might not be as a result of a crazy run by the Lakers. This could be a digression by San Antonio, Utah and the Clippers, who currently have the No. 6-8 seeds.
2. Harden sniffs the MVP, but Giannis wins it in the end
But Giannis has the narrative, numbers and record to back his MVP race. The narrative goes along the lines of "the next greatest" in terms of Giannis. His 27/13/6 stat line helps back it up. How about that record though? First in the East, on pace to smash 60-plus wins and an NBA Finals hopeful.
Harden's fifth-seed Rockets need to get better in order for the beard to repeat as the league's MVP.
To note: Paul George's 29/8 stat line and his .45/.40/.83 shooting will make a strong, significant push for it.
1. Atlanta wins the lottery, strikes gold 
Zion Williamson is the only thing on all the bottom team's mind throughout the NBA. Chicago and New York have each made their case as to how Zion could be the franchise-changing face of their organization. But another large market team on the come up has been vastly overlooked: Atlanta.
If Atlanta wins the lottery, there would be no better way to expedite the rebuild process than adding Zion Williamson.  Imagine a Trae Young-Zion led team, with Kevin Huerter, John Collins, Dewayne Dedmon and perhaps Vince Carter—that sounds pretty nice to me.
More From 600 ESPN El Paso