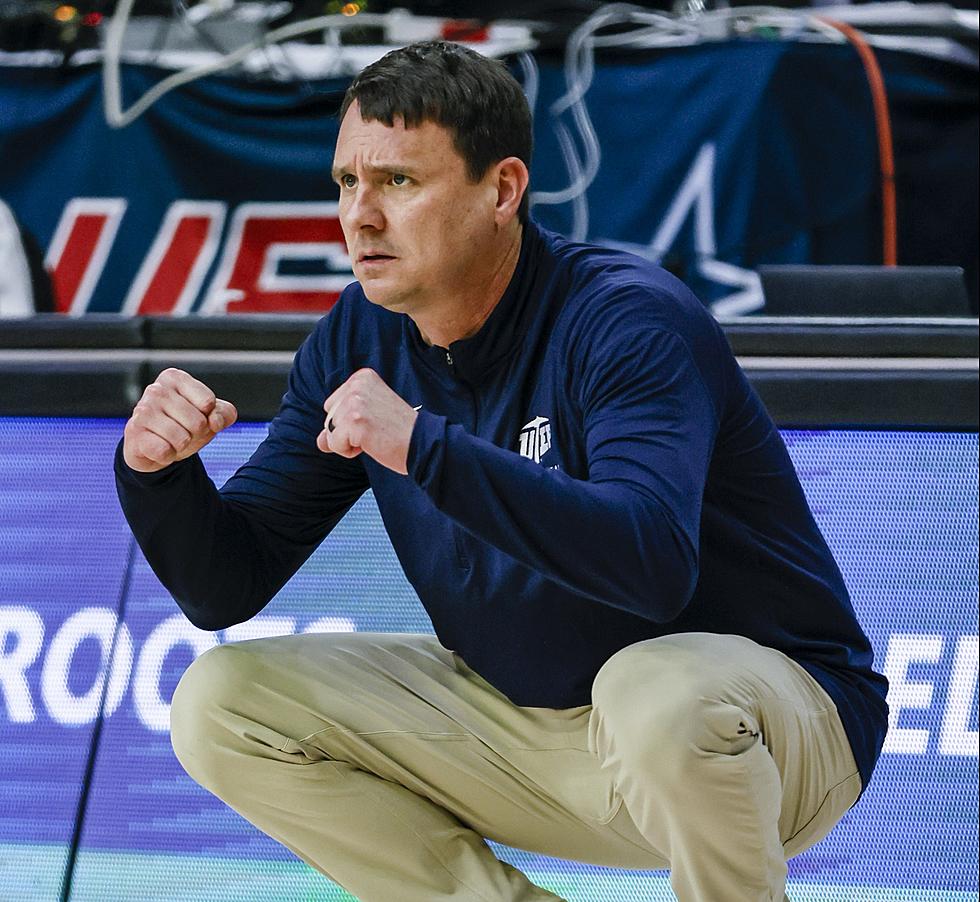 Takeaways from UTEP Men's Basketball Non-Conference Schedule
Matthew Pearce/Rick Yeatts
Finally, the long-awaited UTEP men's basketball schedule is out!
Forty days from today, Miner head coach Joe Golding will officially embark on his third season at the helm of the program, and there's a mix of returning players and newcomers on this year's team. As part of their opening week, they will host McMurry University (Div. III) on Nov. 6 and The University of Science and Art of Oklahoma (Div. II) on Nov. 9.
The marquee matchups on paper include their participation in the SoCal Challenge (MTE), a road matchup at Oregon and a road test at Abilene Christian as part of the WAC Challenge.
Last year, the Miners finished 14-18 on the season and lost five of their last seven games. They return players like Tae Hardy, Otis Frazier III, Calvin Solomon, Kevin Kalu and Jonathan Dos Anjos from last season. Newcomers like Zid Powell, Corey Camper Jr. and Elijah Jones expect to make an immediate impact with this year's squad.
If you missed the special preseason podcast with head coach Joe Golding, check it out here: 
Home games versus USCB, Austin Peay State and Texas A&M Corpus 
The Miners will host the likes of UC Santa Barbara (Nov. 13), Austin Peay (Nov. 17) and Texas A&M Corpus Christi (Nov. 29).
The UCSB Gauchos were an impressive 27-8 last year and expect to have another strong season under coach Joe Pasternack in the West Coast Conference. Austin Peay (9-22) struggled mightily last year in the ASUN Conference.
A familiar foe from 2022, the Miners will again face Texas A&M Corpus Christi this year. The Miners squeezed out a tight 72-67 win against the Islanders last year, who actually made it to the NCAA Tournament in 2023 as a 16-seed.
Road test at Oregon 
The Miners will hit the road for a nice payday at Oregon on Dec. 9. The Ducks finished 21-15 last season under coach Dana Altman. This is a chance for the Miners to collect on a good payout for the matchup against a Pac-12 opponent and also gain exposure against a team like this.
The last time UTEP faced Oregon, the Miners pulled away in a triple-overtime classic at the Don Haskins Center, 91-84. Konner Tucker scored nine of his 12 points in overtime to lift the Miners over the Ducks, while the Miners received a career-high 23 points from Julian Washburn and a double-double (21 points, 10 rebounds) from John Bohannon.
SoCal Challenge & Don Haskins Invitational pose challenges
The Miners scored big with their invitation to the SoCal Challenge in late November, where they'll face Cal (Nov. 20) and the winner of Tulane/Bradley (Nov. 22). Interestingly enough, they'll stay on the west coast after the MTE and face Loyola Marymount on Nov. 25.
Cal, which is looking for a turnaround from their 3-29 season last year, has former Miner Keonte Kennedy on its roster. Bradley played UTEP two seasons ago in the Don Haskins Invitational and won the 2022 tournament.
The late-November road schedule will tell us a lot about the UTEP basketball team.
Fast forward to late December, the Miners will play Norfolk State on Dec. 20, while South Dakota State will battle Wyoming on the other side of the bracket. All three teams qualified for the NCAA Tournament in 2021-22, which makes this a solid invitational for the Miners.
Miners draw a difficult pair in WAC Challenge 
A road matchup at Abilene Christian (Dec. 17) and a home battle against Seattle (Dec. 30) highlight the WAC Challenge for the Miners.
Golding will have to travel to ACU for the first time since he was hired as UTEP's coach. The Wildcats went 13-17 last year in the WAC. Since Golding spent so many years there, this will be a meaningful game for both schools.
Seattle went an impressive 24-12 last season before bowing out in the opening round of the WAC Tournament to Grand Canyon. Head coach Chris Victor has won 20 or more games in his first two seasons with the school and they will be a challenge for the Miners ahead of conference play.
They will wrap up non-conference against Chicago State on Jan. 7.
2023-24 UTEP Men's Basketball Schedule
| | | | | |
| --- | --- | --- | --- | --- |
| Date | Day | Time | Opponent | Location |
| Nov. 6 | Monday | 7 p.m. | McMurry | Don Haskins Center |
| Nov. 9 | Thursday | 7 p.m. | University of Science & Arts of Oklahoma | Don Haskins Center |
| Nov. 13 | Monday | TBD | UCSB | Don Haskins Center |
| Nov. 17 | Friday | 7 p.m. | Austin Peay$ | Don Haskins Center |
| Nov. 20 | Monday | TBD | vs. Cal$ | San Juan Capistrano, Calif. |
| Nov. 22 | Wednesday | TBD | vs. Tulane/Bradley$ | San Juan Capistrano, Calif. |
| Nov. 25 | Saturday | 5 p.m. | at LMU | Los Angeles, Calif. |
| Nov. 29 | Wednesday | 7 p.m. | Texas A&M-Corpus Christi | Don Haskins Center |
| Dec. 4 | Monday | 7 p.m. | Western New Mexico | Don Haskins Center |
| Dec. 9 | Saturday | TBD | at Oregon | Eugene, Ore. |
| Dec. 17 | Sunday | 2 p.m. | at Abilene Christian% | Abilene, Texas |
| Dec. 20 | Wednesday | TBD | Norfolk State& | Don Haskins Center |
| Dec. 21 | Thursday | TBD | Wyoming/South Dakota State& | Don Haskins Center |
| Dec. 30 | Saturday | 7 p.m. | Seattle U% | Don Haskins Center |
| Jan. 4 | Thursday | TBD | at NM State* | Las Cruces, N.M. |
| Jan. 7 | Sunday | 2 p.m. | Chicago State | Don Haskins Center |
| Jan. 13 | Saturday | TBD | at FIU* | Miami, Fla. |
| Jan. 18 | Thursday | 7 p.m. | Middle Tennessee* | Don Haskins Center |
| Jan. 20 | Saturday | 7 p.m. | WKU* | Don Haskins Center |
| Jan. 25 | Thursday | 5 p.m. | at LA Tech* | Ruston, La. |
| Jan. 27 | Saturday | TBD | at Sam Houston* | Huntsville, Texas |
| Feb. 1 | Thursday | 7 p.m. | Jax State* | Don Haskins Center |
| Feb. 3 | Saturday | 7 p.m. | Liberty* | Don Haskins Center |
| Feb. 10 | Saturday | 7 p.m. | NM State* | Don Haskins Center |
| Feb. 15 | Thursday | TBD | at WKU* | Bowling Green, Ky. |
| Feb. 17 | Saturday | TBD | at Middle Tennessee* | Murfreesboro, Tenn. |
| Feb. 22 | Thursday | 7 p.m. | LA Tech* | Don Haskins Center |
| Feb. 24 | Saturday | 7 p.m. | Sam Houston* | Don Haskins Center |
| Feb. 29 | Thursday | 5 p.m. | at Jax State* | Jacksonville, Ala. |
| March 2 | Saturday | 5 p.m. | at Liberty* | Lynchburg, Va. |
| March 7 | Thursday | 7 p.m. | FIU* | Don Haskins Center |
Home Games in Bold
$ denotes SoCal Challenge
% denotes CUSA/WAC Scheduling Initiative
& denotes WestStar Don Haskins Sun Bowl Invitational
* denotes Conference USA game
All Times Mountain
More From 600 ESPN El Paso