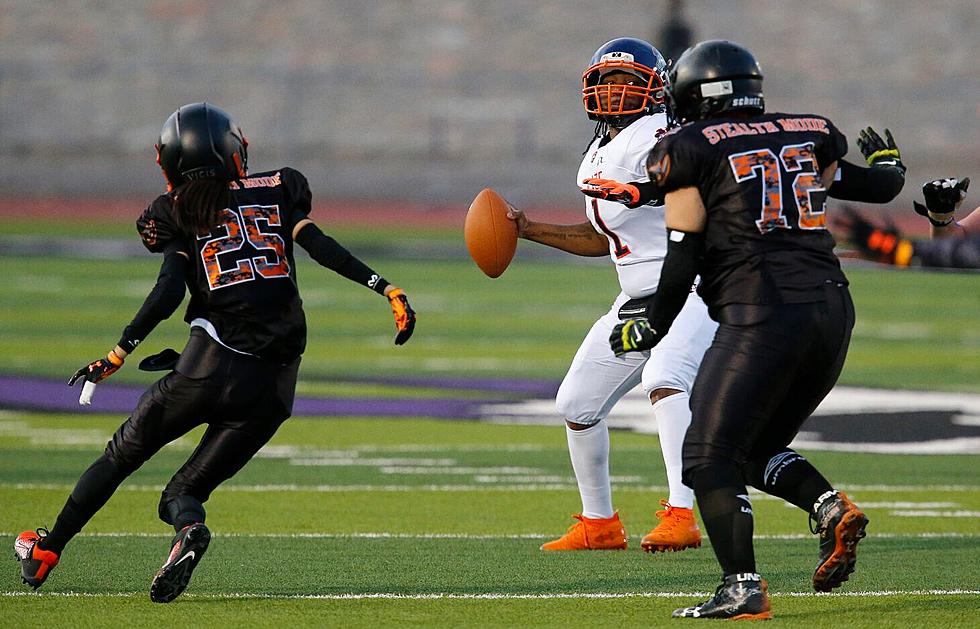 Sun City Stealth Players make WFA All-American Team
Cynthia Russell (72) and Jeanette Mendoza (25) apply pressure on the Mile High QB. Credit Ruben R. Ramirez El Paso Herald Post
In their inaugural season, The Sun City Stealth has broken records and made a lasting imprint on the Women's Football Alliance. Setting a points record in their 77- 64 loss to the Arizona Outkast in their final home game of the season.
The Stealth continue to make noise while being under the radar.
#StealthMode Engaged
With the announcement of the WFA's All American Team, there are multiple Sun City Stealth players who can be found on the list.
Making the First Team in the American Conference:
WR: Kim Kimmel - Kimmel's intensity sets the tone for the Stealth. Kimmel is a big play threat from the Backfield and the Wide Out positions, racking up long TD's in multiple games. Kimmel is ranked 3rd on the top receiver list with 13 receptions for 254 yards and 4 TD's
OL: Jen Nunez - rated as the best OL on the team and one of the best in the WFA.
2nd Team All American - American Conference
QB: Jasmine Quezada - The team leader and a duel threat QB who possess a cannon for an arm and can run long distances. Quezada's ability to scramble helps her keep every play alive. Quezada is the top QB in the league with 743 yards and 12 TD's
OL's: Brittany Brooks, Reeda Blanco - Blanco is considered one of the best Centers in the league and Brooks has done a phenomenal job protecting the QB and creating lanes to run.
DL: Cavine Johnson - has pressured the opposing QB multiple time including big sacks in high-pressure situations and tackles for loss. She also leads the team in sacks.
FS: Janette Mendoza - Mendoza had a career game in the Stealth's first-ever win with 3 interceptions. She has been a consistent presence on defense coming up with huge deflections and interceptions time and time again. Mendoza is ranked 5th in interceptions.
3rd Team All American - American Conference
WR: Stephanie Brook Aragon - One of the top physically imposing WR in the league, Aragon posses quickness and soft-hands along with the ability to contort her body to make amazing catches, averaging 20.4 yards per catch
OL: Cynthia Russell - The Left Tackle and sometimes Defensive linewoman is skilled at generating pressure on the opposing QB While protecting her QB. 
CB: Brandy Ford - is a tackling machine, one of the best ball hawk style CB's in the WFA.
The Sun City Stealth will end their regular season vs the Rio Grande Heat and have a chance to finish the season with a 3-3 record. Currently, the Stealth have the 3rd ranked offense, averaging 36.8 PPG, the 5th ranked Total offense, averaging 309.2 YPG and the top offense in the league with 743 total passing yards and 185.8 Passing Yards Per Game.
The game will be streamed live on the Team Facebook Page
1989 WWF TV Taping in El Paso
More From 600 ESPN El Paso