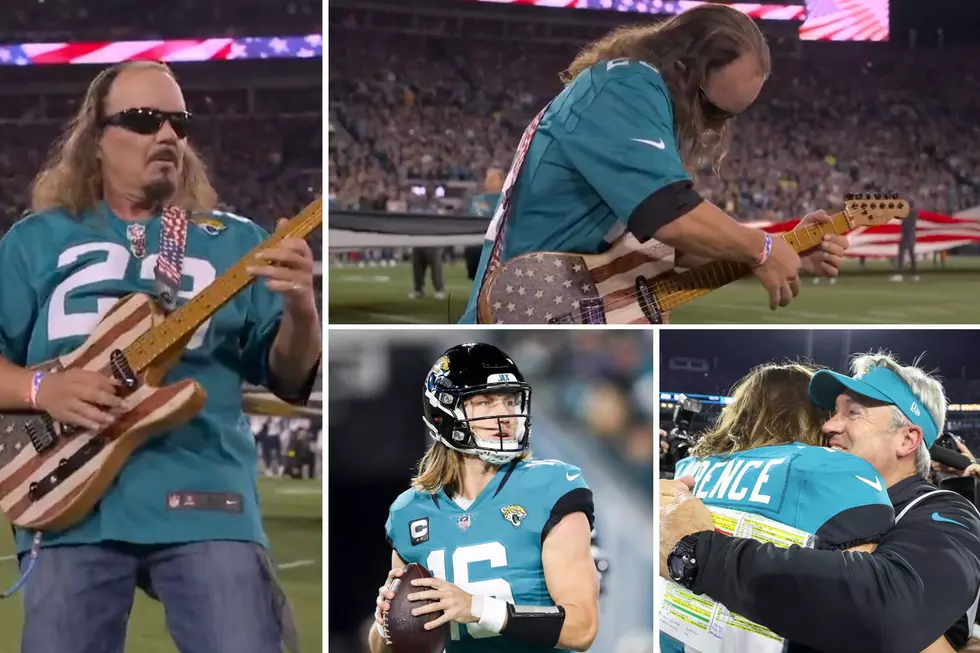 Florida Man Shreds National Anthem at NFL Game + We Think That's Why the Jaguars Got to the Playoffs
Twitter: @SteveGuest / NFL / Courtney Culbreath, Stringer/Getty Images / Mike Carlson, Stringer/Getty Images
A local Florida guitarist shredded the National Anthem before the NFL's Jacksonville Jaguars and Tennessee Titans kicked off their last regular season game on Jan. 7. The performance was so riveting that we even suspect it offered enough of a jolt to the home team Jaguars as they went on to win the game and gain entry into the playoffs.
The game between the AFC South division rivals was an especially important one as the winner of the week 18 tilt would be guaranteed a spot in the postseason with a chance to potentially compete for a Super Bowl title.
Paul Wane, a Jacksonville resident, set the tone for the night, appearing on the field in a Jaguars jersey, blue jeans and sunglasses, playing the "Star Spangled Banner" on a guitar emblazoned with the American flag on the body.
The guitarist, who plays in the southern rock/blues band Duval County Line and is behind the Guitars 4 Kids charity that gifts children with musical instruments, noodled his way through melodic leads, utilizing hammer-ons as accents while also liberally making use of the wah pedal at his feet to really play up the dramatic moments. The stadium roared with support and the game was soon underway.
Watch Wane's shred-tasting rendition of the National Anthem further down the page and learn more about him at his website.
At halftime, the Titans led by a score of 10-7 and the game remained tightly contested until the fourth quarter when a strip sack of Tennessee quarterback Josh Dobbs by Jaguars safety Rayshawn Jenkins led to a fumble recovery for a touchdown by Jaguars linebacker Josh Allen. The go-ahead score put the Jaguars up 20-16, which was good enough for the victory, sending second-year quarterback Trevor Lawrence and head coach Doug Pederson (in his first season with the Jags) to the playoffs where they will now face off against the Los Angeles Chargers on Jan. 14.
Again, although we have absolutely no way to tell for sure, we'd like to think that Wane's powerful opening guitar salvo gave the Jaguars all the inspiration and motivation they needed to get to the postseason.
Florida Guitarist Paul Wane Plays National Anthem Before Jaguars vs. Titans Game
30 Most Underrated Hard Rock + Metal Guitarists
16 Most Expensive Guitars of All Time
More From 600 ESPN El Paso