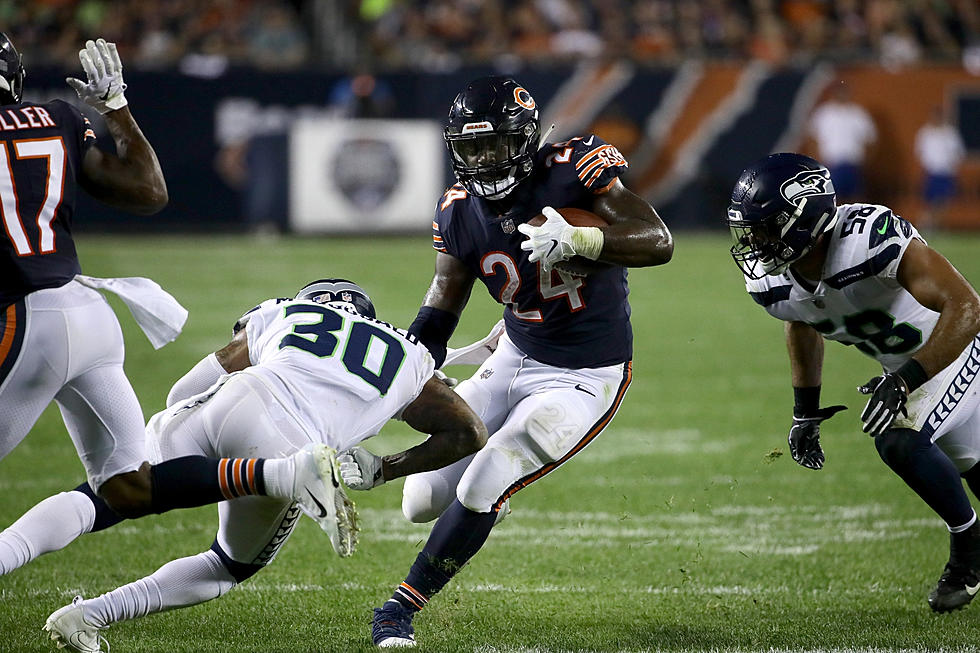 Jordan Howard: A 'Blue-Collar Player' for a 'Blue-Collar City'
Photo by Jonathan Daniel/Getty Images
PHILADELPHIA (973espn.com) - The modern NFL game is a lot different than it once was but giving up a conditional sixth-round pick for a 24-year-old running back who has amassed more yards in his first three professional seasons than anyone not named Ezekiel Elliott and Todd Gurley should never go out of style.
Couch Jordan Howard's success in Chicago anyway you want, the descending numbers from his Pro Bowl rookie season with the Bears to the career-low production in 2018 but Howie Roseman went low-risk with this deal for the potential of a high-reward.
Howard, a 6-foot, 225-pound bruising back, simply wasn't the type of runner Matt Nagy wanted for his offense in Chicago and the Eagles were looking for a back to take over the heavy lifting in Doug Pederson's committe approach.
Once Tevin Coleman signed in San Francisco, working out a deal with the Bears and bringing in a two-time, 1,000-yard rusher on the final year of his rookie deal for just over $2 million became the best path for Roseman.
"It wasn't really a surprise," Howard said of his move from the Windy City to Philadelphia. "I knew something was going to happen, I just didn't know when. And I was finally relieved, getting tired of everybody hitting me up, like, 'Are you getting traded?' and 'How do you feel about this?' So I was definitely relieved."
Howard's agent kept him abreast of his future and Philadelphia was always the leader in the clubhouse.
"I pretty much knew they were going to be my landing spot, I just didn't know when," Howard said. "But I was pretty excited."
Howard played coy on why Nagy and the Bears wanted to move on from him, however.
"I'm not really sure," he said. "They made a decision. They wanted to move on. I can't be mad at that or have hard feelings about that."
To the hand-wringers, the answer is the steadily declining production, from over 1,300 yards and a 5.2 yards-per-carry in 2016 to his first campaign under 1,000 and 3.7 YPC last season, something Howard attributed to stacked boxes in the shift from the Jay Cutler era to  the Mitchell Trubisky one.
"My rookie season, I had a lot of success, but we only won three games," Howard said. "That wasn't fun at all. Since then, last year, that was probably the most fun I've had since I've been in the league."
Howard will enjoy the comfort of a few familiar faces in the Eagles locker room, starting with backup quarterback Nate Sudfeld, who was with Howard in college at Indiana and Alshon Jeffery, a teammate in Chicago during Howard's spectacular rookie season in 2016.
With the Bears last season the strength was the defense. though. Now Howard arrives in an offense which features Carson Wentz throwing it to Jeffery, Pro Bowl tight end Zach Ertz and speedy outside threat DeSean Jackson with solid complements like Nelson Agholor and Dallas Goedert.
"I've seen Carson Wentz, what he can do," Howard said. "He's an MVP-caliber player when he's on top of his game. I know what he can do. ...[Jeffery] says it's gonna definitely be explosive, gonna be wide open because we've got so many people to contain that it's going to be hard for a defense to focus on just one person."
And very hard to load the box, an environment that shapes up as tailor-made for Howard in a city made for the way he runs the football.
"I'd describe my playing style as being rugged, physical, definitely like setting the tone," Howard said. "I feel like I'm a blue-collar player and I feel like this is a blue-collar city."
-John McMullen covers the Eagles and the NFL for 973espn.com. You can reach him at jmcmullen44@gmail.com or on Twitter @JFMcMullen
More From 600 ESPN El Paso