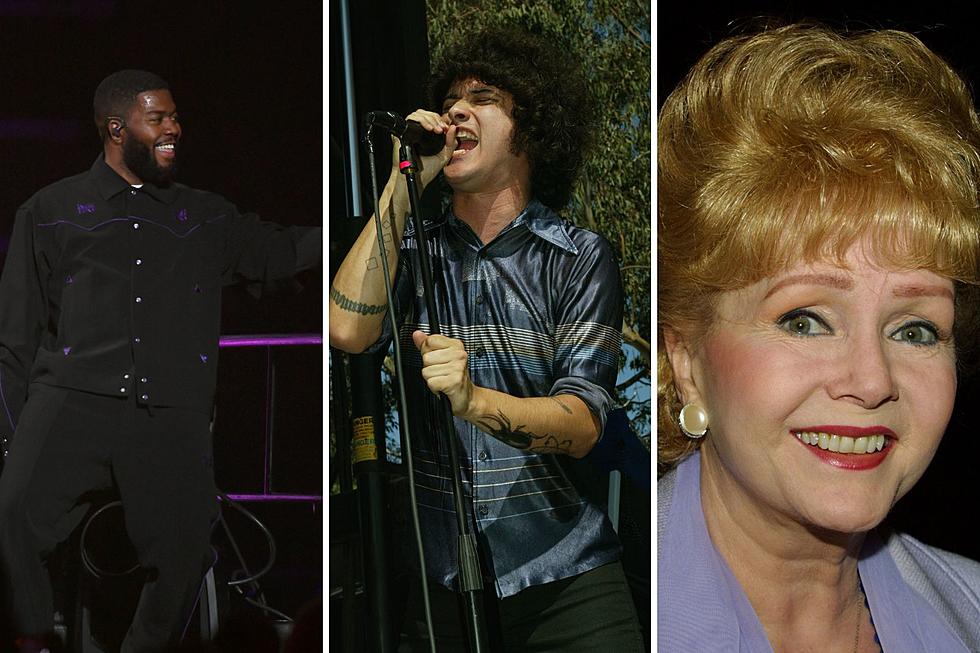 Lights, Camera, El Paso! Musicians Who Scored Big on TV & Film
Getty Images/ Getty Images/ Getty Images/Canva
When was the last time you've heard (or seen) an artist or band from El Paso, Texas on a movie or tv show? Turns out there are WAY more appearances than you knew. With Khalid being featured on the new Barbie movie, here are some other El Paso musicians that have made it on the tv screen & big screen. Look for the ones you remember seeing or hearing.
At The Drive-In/The Mars Volta/Sparta
Let's start with the biggest rock bands to come out of El Paso; At The Drive-In, The Mars Volta & Sparta. I decided to put these 3 as one entry since they are some of the most recognizable acts to come out of the Sun City.
At The Drive-In has appeared in the Book of Shadows: Blair Witch 2 (Arcarsenal) & the movie Sugar (198d).
The Mars Volta has been heard in the show Rescue Me (The Widow), 3 songs were in The Night Buffalo & Get Him to the Greek (their usage in the film might have inspired a meme too).
And Sparta has been known to appear in the movie The Invisible with their song Taking Back Control.
Cigarettes After Sex
Believe it or not, CAS has had at least 6 songs featured in multiple shows & movies:
Nothing's Gonna Hurt You Baby,
Apocalypse,
K.,
Falling In Love,
I'm a Firefighter,
& their cover of REO Speedwagon's Keep On Loving You.
They've also been known to get the attention of Breaking Bad's Aaron Paul. They haven't appeared in any of his projects...yet.
The Royalty
Remember the El Paso band The Royalty? We still do. We also remember them being featured in countless shows on MTV & VH1. You may remember them appearing on shows like Degrassi: The New Generation with "How I Like Em". Sadly they're no longer around (and they're not the only ones) but we still love them to this day.
Eyedry
If you've watched the Netflix singing competition show, La Firma, you've seen the El Paso singer Eydrey where she won the hearts of those who saw her performance. You can read about her appearance on the show here.
Krystall Poppin
The El Paso Queen of Hip Hop, Krystall Poppin recently appeared on the movie Lost Soulz as Nina. She also appeared on the show The Studio.
Those are names you probably never knew made it onto TV or movies; here are some names you DO know.
Debbie Reynolds
What can I say about Mary Frances Reynolds, aka Debbie Reynolds? The iconic singer has appeared in movies since she was 16 years old appearing, she's won countless awards & we still miss the beloved Debbie every day.
Vikki Carr
Another beloved El Paso singer/acctress, Vikki Carr started her acting career on The Bing Crosby Show in the 60s. Since then Vikki & her songs have appeared on a number of tv shows including The Ed Sullivan Show.
Joe Scruggs
Do you remember watching Barney? Then you might remember seeing the El Paso born, Joe Scruggs appear on the show. He's written many children's music during his career so there's a good chance you've heard & seen him before. You can see other musicians you never knew were born in El Paso here.
Khalid
And of course wrapping up our list is the latest El Paso musician heard on a movie/tv show: Khalid. In addition to his song Silver Platter appearing on the Barbie soundtrack, the amount of times his songs have been featured on tv or in movies is STAGGERING. One of his most known is his duet with Billie Ellish, "Lovely", on the Netflix drama 13 Reasons Why. Expect to see him appear in WAY more in the future.
If you want to see more musicians who appeared in popular media, you can see 15 Texas bands that made it onto video games here.
Amazing Rock Art Pieces by El Paso Artist Karmann "Sketchy Goat" Sloane
Karman Sloane, aka Sketchy Goat, has made some amazing art used by big names in the rock world. Here's a look at some of her favorite art designs that you might have seen.
40 Of The Best Musicians Born In Texas
Texas has been home to a wide variety of musical genres; many musicians have become staples of rock, metal, pop, country & more. Here are some of the greatest musicians to ever represent the state of Texas.
Things You'll Find in An El Pasoans Backyard