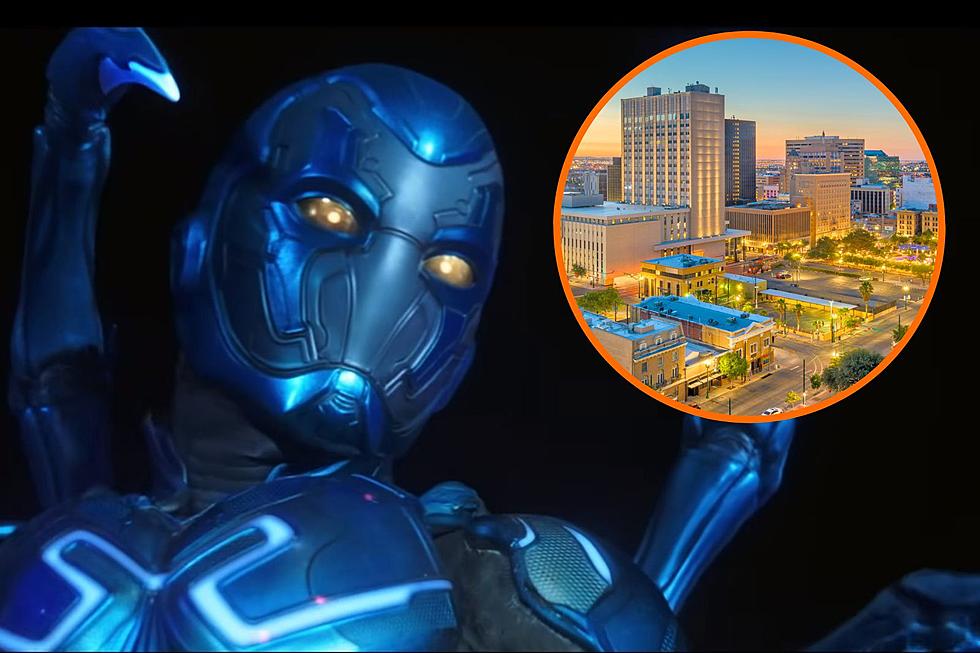 Did You Find The Sneaky El Paso Easter Eggs in Blue Beetle Movie
DC via YouTube/Sean Pavone
This past weekend DC's Blue Beetle premiered in movie theaters everywhere, much to the delight of anxious fans of DC Comics & the Blue Beetle. We know the Blue Beetle, while the hero was based in El Paso, the movie was set in the fictional city of Palmera City. However...after watching it in theaters, I did spot a few Easter eggs that WERE a clear reference to El Paso Texas.
NOTE: I will make sure to keep this spoiler free.
How many El Paso Easter eggs are in the Blue Beetle?
In the beginning of the movie when our main character Jaime Reyes, played by Xolo Maridueña, comes back to see his family, the first shot of the house we notice a street sign that says very clearly "El Paso St". Similar to what you'd see on the ACTUAL El Paso St. This WAS confirmed by Angel Manuel Soto in an interview.
And there's another scene where Uncle Rudy, played by George Lopez, is driving his Toyota Tacoma (as he calls it "Taco"), on the black passenger seat cover, it says "EL PASO" in letter writing. And there was even a cameo from Felipe Esparza. I know he's not from El Paso, but he certainly is loved by El Paso.
And I'd be remised if I didn't mention Angel Manuel saying that the Blue Beetle's beer of choice is at the Old Sheepdog Brewery, even showing that Cervza del Pueblo is featured IN the movie.
And don't forget the local artist, elcimi (aka Jesus Cimi),painting a mural in Puerto Rico (where they shot the film) being used in the film.
Aside from that, there weren't too many Easter eggs in the movie; they were all featured in the beginning in the movie. However in the Alamodraft house interview BEFORE the movie, director Angel Manuel Soto did reveal that on their trip to El Paso, they were inspired by the Plaza Theater in Downtown El Paso, as well as the adobe houses found out town. Personally the houses looked similar to those you'd find around Central or around Downtown.
Personally I would've loved to see more references to El Paso in the Blue Beetle movie but I'm happy that we WERE in the movie to begin with! Here's to hoping that more Easter eggs will be in the next Blue Beetle movie.
25 True Crime Locations: What Do They Look Like Today?
Below, find out where 25 of the most infamous crimes in history took place — and what the locations are used for today. (If they've been left standing.)
LOOK: The most famous actress born the same year as you
Many of the actresses in this story not only made a name for themselves through their collection of iconic performances, but also through the selfless, philanthropic nature with which many of them approached their stardom. In an age of flipping the script on societal norms, many of these actresses are using their voices and platforms to be advocates for those who are otherwise unheard.
More From 600 ESPN El Paso