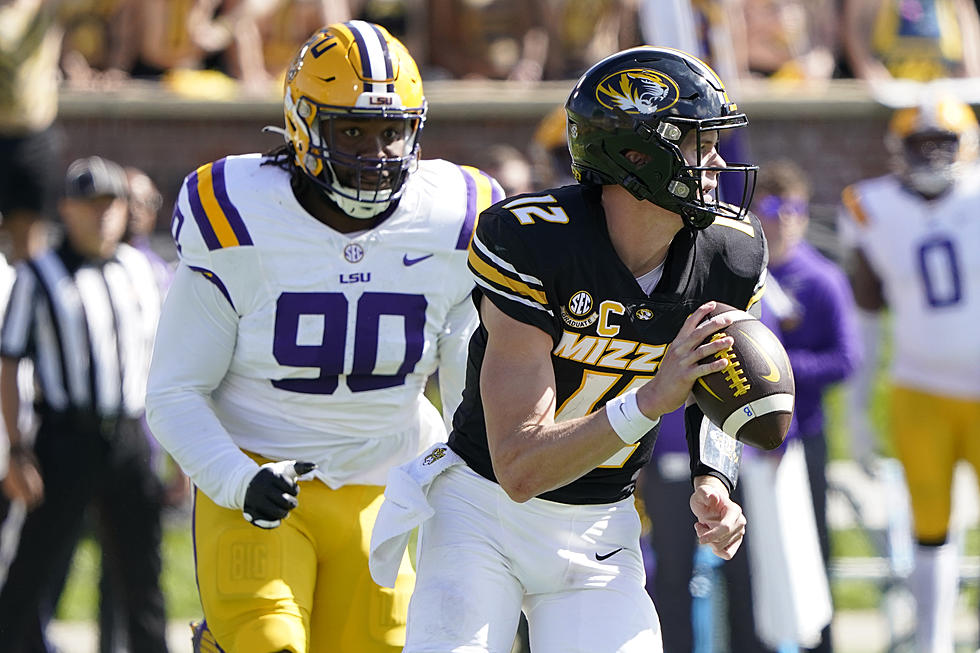 LSU's Defense Does Just Enough In 49-39 Win Over Missouri
Getty Images
Took a bit, but the LSU Tigers defense finally came up with a couple of big stops in their 49-39 win over the Missouri Tigers on Saturday afternoon.
It all started in the 1st Half with LSU trailing 22-10 and hadn't stopped Missouri yet.  But Harold Perkins, Jr turned the entire game around with an interception.  LSU took advantage of the turnover to pull within 22-17.
Missouri did connect on 50-yard field just before half for a 25-17 lead.
Fast forward to the 4th quarter with LSU trailing 32-27, and Jayden Daniels took it in himself, from 32 yards out.  He connected with Malik Nabers for a 2-point conversion and LSU held a 3-point lead, 35-27.
Missouri comes right back as Cory Schrader punches it in from the 1 and they reclaim the lead, 39-35.
With 5:40 to go, does LSU score fast or milk the clock a bit to not leave Missouri much time to respond?
LSU moved down the field in 2:42 with Daniels finding a wide-open Nabers for a 29-yard touchdown pass and 42-39 lead with 2:58 to go.
On Missouri's first play Brady Cook found Theo Wease for 25 yards, moving the ball to midfield.   After gaining 9 yards on 1st Down, LSU's defense came up with a couple of plays against Missouri.
Masson Smith knocked down Brady Cook's pass on 2nd & 1.  After an illegal procedure call making it 3rd & 6, LSU forced a fumble and although Missouri recovered, it was 4th & 32.  Missouri came up a couple yards short and turned it over on downs.
Missouri using all of their timeouts, forced an LSU punt, but Major Burns returned a Cook interception for a touchdown, finally putting the game away.
LSU's Daniels was both efficient in the air and explosive on the ground. He threw 15-21, 259 yards and 3 touchdowns.  He ran for 130 yards on 15 carries and one touchdown.
Nabers had another big game with 6 catches for 146 yards and a touchdown.  He got some help on the ground from Logan Diggs who ran 24 times for 134 yards and a touchdown.
LSU improves to 4-2 overall and 3-1 in the SEC.  They play host to Auburn next Saturday night in Tiger Stadium.
2023 LSU Tigers Football Season In Review
Gallery Credit: David Schultz