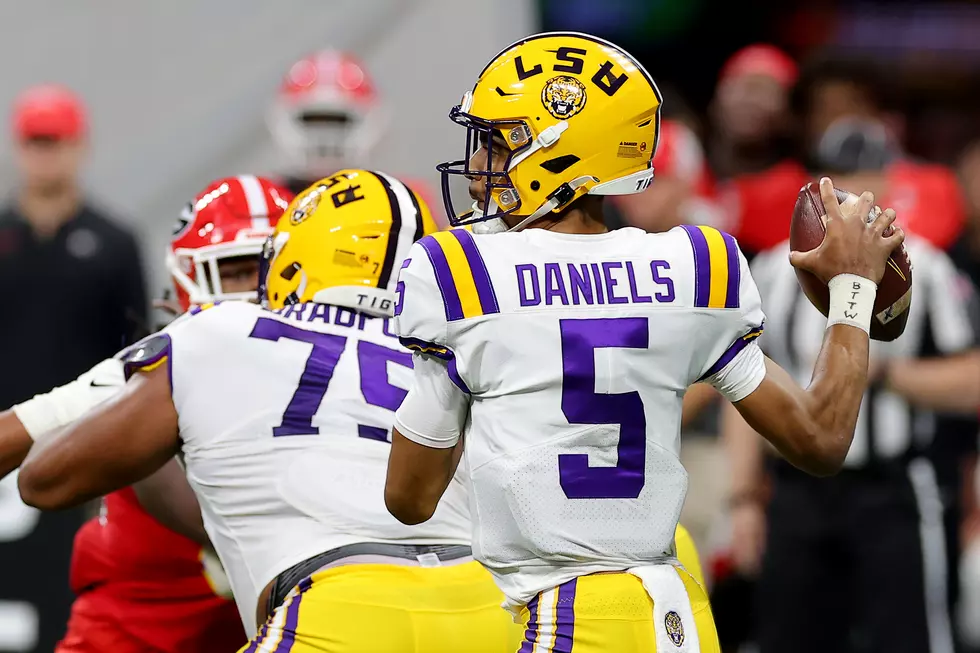 LSU Tigers are 5th in AP Pre-Season Top 25
Photo by Kevin C. Cox/Getty Images
The first Associated Press (AP) Top 25 poll was released Monday morning with the 2-time defending champions Georgia Bulldogs as the consensus, but not unanimous number 1 team in the country.
Georgia was followed by Michigan, Ohio State, and Alabama with the LSU Tigers coming in 5th.
Coming in 4th is the lowest pre-season ranking for the Crimson Tide since 2009.  It should probably be noted, Alabama won the National Championship that season.
Expectations are extremely high for the Tigers in 2023. After last year's surprising SEC West Division Crown, many of the same players return, including quarterback and one of the Heisman favorites, Jayden Daniels.  LSU opens the season in Orlando against #8 Florida State, Sunday, September 3 at 6:30P.  
Last season the Tigers and Seminoles played one of the great games of the season on Opening Weekend. The Tigers fell 17-3 and 24-10 before rallying which included, forcing and recovering a fumble at their own 1-yard line.
The Tigers drove 99 yards, capping it off with a Jayden Daniels 2-yard touchdown pass to Jaray Jenkins that appeared would tie the game and send it to overtime.  Unfortunately, for LSU Damien Ramos' extra point was blocked and the Tigers lost 24-23.
LSU Athletes Drafted #1 Overall Across All Sports Drafts
LSU Athletics have had players drafted #1 overall in all 4 of the major sports drafts in America. Here are those top picks.
Alabama vs LSU
Pictures From LSU's Win Over Alabama On 11/5/22
LSU beat Alabama 32-21 in Tigers Stadium on Saturday, November 5th, 2022. The game was a walk-off win in overtime for the Tigers, and sent Death Valley into chaos.
More From 600 ESPN El Paso