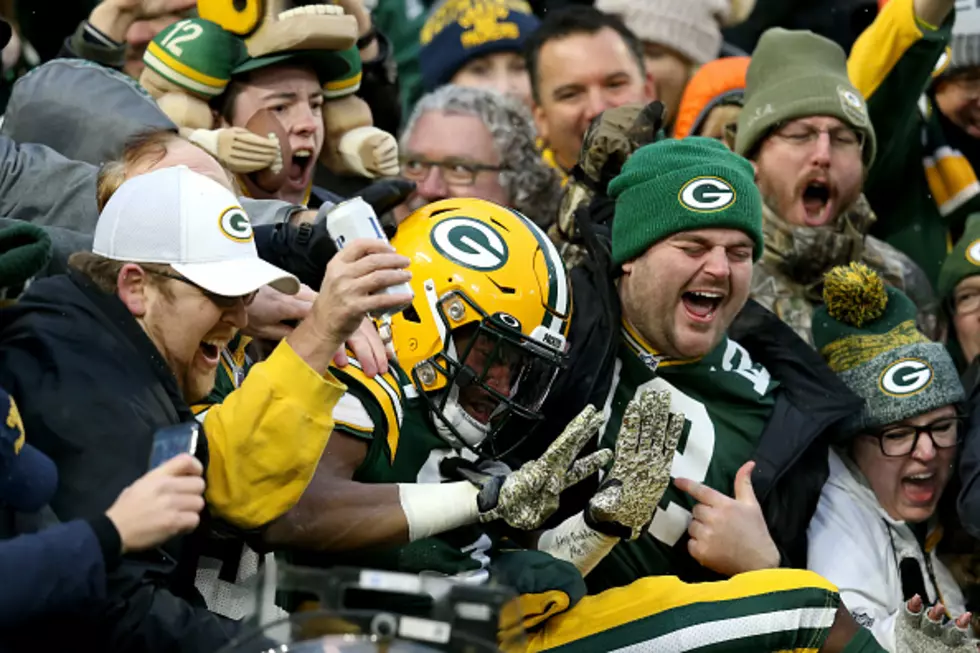 Did Aaron Jones Just Play His Final Game in Green Bay?
Getty Images
As Tom Brady and the Tampa Bay Buccaneers celebrated their Super Bowl berth on Sunday, the Green Bay Packers have to live with their second consecutive loss in the NFC Championship game over back-to-back seasons.
Aaron Rodgers and the Packers now head into an offseason to try and recollect themselves after a dominant regular season run and a top seed spot in the playoffs. Though, due to salary cap issues that will come up, several members enter the offseason with more uncertainty than others on this roster.
El Pasoan Aaron Jones may have played his final game for the Packers on Sunday with his looming free agency hanging in the balance. It was a rough outing for Jones, who fumbled on two occasions, and suffered a chest injury during the second fumble. Subsequently, he wouldn't return back to the game and missed the majority of the second half. He totaled only 27 rushing yards against a stifling Bucs defense.
The extension that never was — Despite multiple attempts to reach an extension with the Packers, Jones never got the contract he was seeking.
The contract negotiations began in February of 2020, when ESPN's Rob Demovsky reported that Green Bay and Jones' agents—Leigh Steinberg and Chris Cabot—were trying to reach a contract extension.
Then, as these talks were taking place, Green Bay went ahead and drafted AJ Dillon out of Boston College in the second round last year.
Apparently, there was a deal on the table between Green Bay and Jones, a contract that was loaded with incentives but didn't have as much guaranteed money, according to Demovsky.
Jones, unable to reach a deal with the Packers, changed his agents mid-season to Drew Rosenhaus. Even if the overall goal of changing agents was to restart negotiations with Green Bay, it still might not make sense for the Packers. They chose Dillon in the second round of the draft and could end up keeping Jamaal Williams back at a lesser amount. Plus, there are a plethora of free agents that Green Bay might have to prioritize this offseason.
Showtyme in Green Bay — The former 5th round pick exceeded all expectations and delivered in four productive years for Green Bay. If this is the end of his run with the Pack, he had one hell of a four-year stint and simply priced himself out of Green Bay.
When Jones came onto the scene in 2017, he played in 12 games for the Packers, starting in four contests as a rookie. He totaled 448 yards and scored four touchdowns in year one. He followed his rookie year with a come-out sophomore year, where he rushed for 728 yards and a league-high 5.5 yards per carry average. The 2019 year was the breakout year for the Burges High School alum. He exploded for 1,084 yards and tied for the NFL rushing touchdown leader (16). Through 14 games this season, Jones finished with a career-best 1,104 rushing yards through 14 games played, including nine rushing scores en route to his first Pro Bowl recognition.
He's amounted for 3,364 career rushing yards, 37 rushing touchdowns and 1,057 receiving yards. He also boasts impressive career averages like his 5.2 yards per attempt and 8.2 yards per reception.
"A lot of y'all talkin real disrespectful. They love you one day, hate you the next. That's why I never cared what someone who couldn't play at this level had to say!!"

"To the real fans and family out there, thank you for your continued support. It means more than y'all know."

 

- Wrote Aaron Jones on Instagram following the loss
2021 potential landing spots
Green Bay — Maybe the Packers end up agreeing to a long-term deal with Jones and keep him on something that averages around $11 million per season. Though, if the Packers stay with Showtyme, they will likely see others walk away in free agency.
Arizona Cardinals — Kliff Kingsbury coached against Jones at Texas Tech. Sean Kugler is still the offensive line coach. Too many ties here that make sense for Jones to land in a place that could really use a stable running game.
Miami Dolphins — Myles Gaskin was the only routine tailback for the Dolphins this past year. If they look to continue to load up on weapons offensively, maybe they spend on a quality running back like Jones.
New York Jets — General manager Joe Douglas would need to assemble an offense with more weapons if he's serious about trading for Deshaun Watson, amid rumors with the disgruntled Houston quarterback. By becoming an addition to a revamped Jets team, Jones could be in for a large payday here.
Buffalo Bills — The Bills were aggressive in trading for Stefon Diggs last year in the draft. Maybe Buffalo addresses their needs at the running back spot with a veteran addition like Jones.
TACKLE THESE: Check Out the Best Uniforms In Each NFL Team's History
More From 600 ESPN El Paso