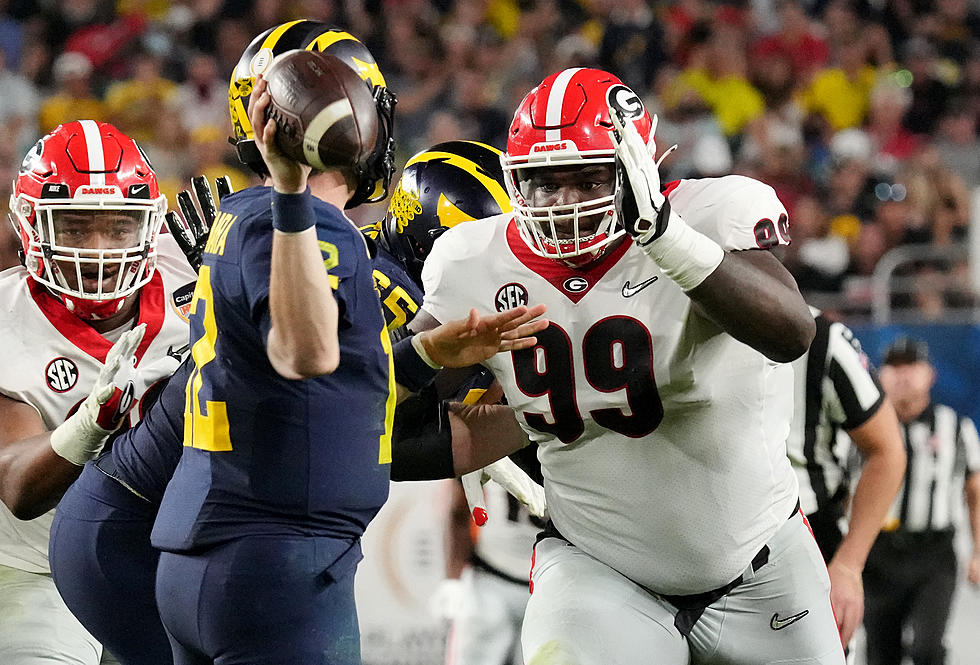 Broaddus NFL Mock Draft: Projecting the Board Ahead of Vegas
Getty Images
The NFL Draft is just one day away, as the top college prospects get ready to hear their name called by commissioner Roger Goodell live in Las Vegas.
600 ESPN El Paso and SportsTalk will be broadcasting live from Vegas to bring our listeners two full days of draft coverage, beginning at 4 p.m. on Thursday. Our online coverage for the NFL Draft is brought to you by Roto-Rooter Plumbing & Water Cleanup. They are open and available at 915-519-1402 for all your plumbing and water cleanup needs.
Our NFL Draft coverage is brought to you by The Window Depot, with the best prices and biggest inventory. Our supporting sponsors for our trip include Longhorn Distributing, Cisco Movers, Clean Water of El Paso, 915 Tours, Palo Verde Homes, Taco Avocat, Expert HVAC and Refrigeration, Roto Rooter, and C&M Bodyworks.
Let's talk some NFL Draft!
The Storylines 
Throughout this entire draft process, most thought that the Jaguars would be drafting pass rusher Aidan Hutchinson first overall from Michigan without a doubt. Now that pick is clouded with uncertainty, as Georgia's Travon Walker is the betting favorite to be the top pick. Will the Jaguars stay with a conservative approach and grab Hutchinson, or do they take a bit of a risky pick and grab Walker first overall?
The consensus on the quarterbacks for this draft is that teams like this batch, but they aren't necessarily in love with any of these QBs. Teams in the top-15 of the draft that might want to draft a quarterback include Carolina (6), Seattle (9) and Washington (11). Liberty's Malik Willis and Pitt's Kenny Pickett are the two trendy quarterbacks that could get selected early. Though, some prognosticators anticipate quarterbacks slipping in the first round. Cincinnati's Desmond Ridder and Ole Miss' Matt Corral could be late first round draft picks. Who takes a chance on one of these quarterbacks? Who stands pat and waits for second/third day prospects like Sam Howell (UNC), Carson Strong (Nevada) and Bailey Zappe (Western Kentucky).
Which cornerback is taken first, Ahmad "Sauce" Gardner or Derek Stingley Jr.? At Cincinnati, Gardner displayed his physicality and top-end speed against wideouts. Though he dealt with injuries this past season, Stingley Jr. has been one of the best shutdown corners in college football. I think Gardner is the pick, but it will be interesting to monitor these two prospects for years to come. Let's see which team gets this right.
Back in December and January, draft gurus thought Oregon pass rusher Kayvon Thibodeaux had a 50-50 chance to be taken first overall. Now, some are wondering if Thibodeaux could fall out of the top-10. While he's shown his dominance in stretches, NFL scouts are reportedly worried about his lack of presence in big games, such as the Ducks matchups against Utah where Thibodeaux failed to register a sack. Could we see him fall out of the top-10? It's possible.
With a STACKED wide receiver class, who will be the first guy taken? USC's Drake London has trended toward the top in recent weeks. The Ohio State tandem of Garrett Wilson and Christ Olave will be first round picks. Alabama's Jameson Williams is progressing from a torn ACL in the National Championship game. Don't sleep on Penn State's Jahan Dotson or Western Michigan's Skyy Moore. Most scouts think this is an extremely talented wide receiver class. The only question is, which receiver will be taken first?
Broaddus NFL Mock Draft 
1. Jacksonville Jaguars – DE Aidan Hutchinson, Michigan
2. Detroit Lions – DE Travon Walker, Georgia
3. Houston Texans – OT Evan Neal, Alabama
4. New York Jets – CB Ahmad 'Sauce' Gardner, Cincinnati:
5. New York Giants – OT Ikem 'Ickey' Ekwonu, North Carolina State
6. Carolina Panthers – QB Malik Willis, Liberty
7. New York Giants [Via Chicago] – OLB/DE Jermaine Johnson II, Florida State
8. Atlanta Falcons – WR Garrett Wilson, Ohio State
9. Seattle Seahawks (from Denver Broncos) – CB Derek Stingley Jr., LSU
10. Jets (from Seahawks) – DE Kayvon Thibodeaux, Oregon
11. Washington Commanders – S Kyle Hamilton, Notre Dame
12. Minnesota Vikings – WR Jameson Williams, Alabama
13. Texans (from Cleveland Browns) – OT Charles Cross, Mississippi State
14. Baltimore Ravens – CB Trent McDuffie, Washington
15. Philadelphia Eagles (from Miami Dolphins) – WR Drake London, USC
16. New Orleans Saints (from Indianapolis Colts via Eagles) – OT Trevor Penning, Northern Iowa
17. Los Angeles Chargers – DT Jordan Davis, Georgia 
18. Eagles (from Saints) – DE George Karlaftis, Purdue
19. Saints (from Eagles) – WR Chris Olave, Ohio State
20. Pittsburgh Steelers – QB Kenny Pickett, Pittsburgh
21. New England Patriots – ILB Nakobe Dean, Georgia 
22. Green Bay Packers (from Las Vegas Raiders) – WR Treylon Burks, Arkansas
23. Arizona Cardinals – CB Andrew Booth Jr., Clemson
24. Dallas Cowboys – WR Jahan Dotson, Penn State 
25. Buffalo Bills – OL Zion Johnson, Boston College
26. Tennessee Titans – OL Kenyon Green, Texas A&M 
27. Tampa Bay Buccaneers – LB Devin Lloyd, Utah
28. Packers – OLB David Ojabo
29. Kansas City Chiefs (from San Francisco 49ers via Dolphins) – WR Skyy Moore
30.Kansas City Chiefs – DE Arnold Ebiketie, Penn State
31. Cincinnati Bengals – DL Logan Hall, Houston 
32. Lions (from Los Angeles Rams) – QB Desmond Ridder 
TACKLE THESE: Check Out the Best Uniforms In Each NFL Team's History
More From 600 ESPN El Paso