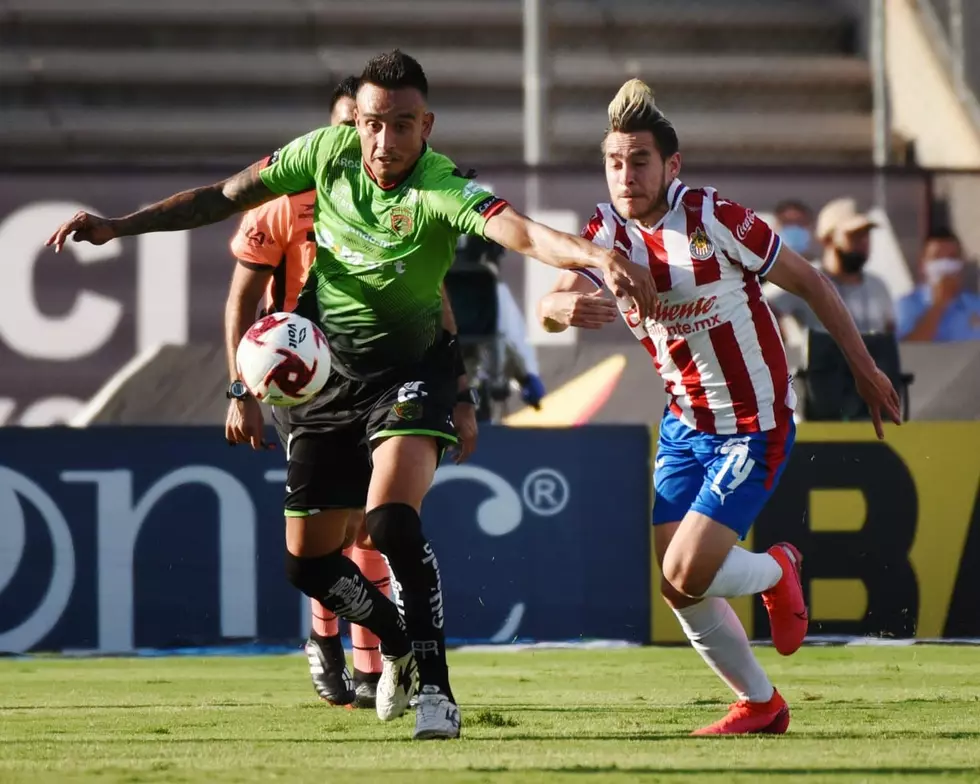 Bravos Add Fabian But Lose 2-0 To Chivas For First Loss of Season
FC Juarez.
Bravos de FC Juarez suffered their first loss of the 2020 Apertura season Wednesday evening when they lost 2-0 to Chivas de Guadalajara at Benito Juarez Olympic Stadium. It was the first time that the Bravos were shutout in 16 matches. Meanwhile the win gave the most popular team in Mexican soccer their first goals of the season and thus obtained their first win.
The match was a highly contested one particularly in the first half. As the match progressed and the two goals came for Chivas, both in the second half, the Bravos faded away. As has been the theme for FC Juarez after 4 matches this season, controversial referee decisions were heavy factors in the outcome of the match.
The first half saw both teams have their fair share of notable threats on goal with a slight edge going to the Chivas in that statistical category. Still, a penalty kick in favor of the Bravos was overturned by VAR (Video Assistant Referee) in stoppage time by center ref, Adonai Escobedo Gonzalez.
The score line opened when Gonzalez called a penalty kick against FC Juarez less than 10 minutes into the second half. It was on a play were incidental contact and player position could be argued. Gonzalez went into review the play on the VAR system and upheld his original call. Jose Juan Garcia scored on the PK for Chivas in the 56th minute.
Ten minutes later the team from Guadalajara, Jalisco would get their second goal of the match when Uriel Antuna would receive a fast break pass off of a counter attack down the left flank. Antuna would center or cross the ball to Jesus Angulo who would basically just have to push the ball in for the 2-0 lead.
The Bravos would fail to react to both goals against them, failing to pose any real threat to get on the board much less tie the match.
After the match an outspoken Gabriel Caballero commented on his team's performance on Wednesday night. The head coach for the team from the Borderland said, "I just don't think we played very good. We did not have a good night. We competed, we had some chances to score, but it all starts to come undone with a penalty kick, a call that disillusions us and it was a situation that we could not overcome."
The turnaround will once again be a quick one for FC Juarez as they will play in Mexico City once again on Saturday evening when they play Cruz Azul at the newly renovated Estadio Azteca. Cruz Azul also lost Wednesday evening to Queretaro 1-0 on the road. The match is scheduled to kickoff at 6pm MST. That match will be televised nationally on TUDN, DirecTV ch. 464 and Spectrum ch. 444.
Prior to the match with Chivas, FC Juarez formally announced that Marco Fabian was their latest acquisition. Fabian is a household name in Mexican soccer, being a regular on the Mexican National Soccer Team and winning gold with Mexico in the 2012 London Olympic Games.
The attacking midfielder signed for one year with the Bravos with an option for a second year.
The 31-year old soccer player got his start with Chivas de Guadalajara and came out of their youth system. He also played with Cruz Azul. Fabian has also had stints in the Germany with Frankfurt and in the MLS with the Philadelphia Union. He arrives from Qatar where he was playing with Al-Saad.
He was not played in Mexico since 2015.
Fabian will undergo physical examinations within these next couple of day and be at the disposition of head coach Gabriel Caballero as soon as possible. His contract expired with Al-Saad weeks ago so he had ownership of his player rights, a free agent of sorts, so he is eligible to play immediately.
The Bravos had a press conference via Zoom yesterday to introduce Fabian to the local and national media. When asked by 600 ESPN El Paso regarding how he felt about playing for the second newest franchise in Mexican soccer after playing with two legendary teams like Chivas and Cruz Azul and if there was extra motivation in him to cement his name in the young history of the team from the Borderland. Marco Fabian answered: "Indeed. As everyone knows the two teams I played with in Mexico are two of the great teams, with a great history, but now I join a team in Juarez that has become important in a short period of time. I want to be a part of this team's history while making history. I think we can compete in order to accomplish significant goals and that is the aspiration that I arrive with and I will do my part to accomplish the goals of this institution."
More From 600 ESPN El Paso