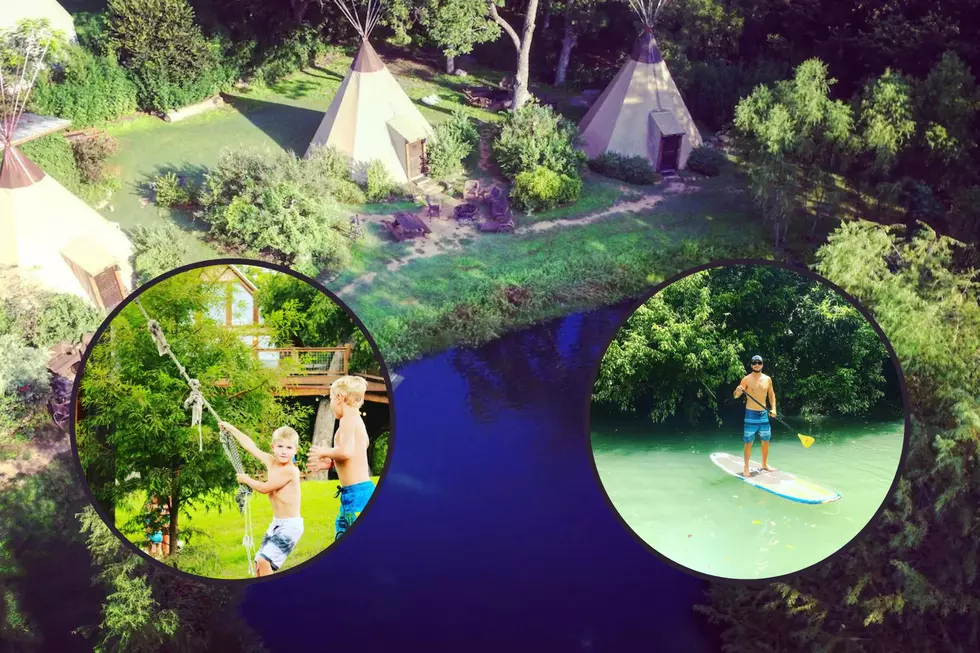 Airbnb Tipi Glamping is a Real Thing Down Near San Antonio, Texas
Seguin Travel Company/Airbnb
Lately, I've been obsessed with finding unique Airbnb rentals here in Texas, and during the said search I stumbled across one that centers around tipis and it's pretty dang rad.
Growing up in Bay City, my family would often visit the nearby town of Wharton where my brother and I would awe over a tipi hotel and RV park that looked so cool. I always wanted to stay there, but back then, it was (pretty much) in disarray so staying there never happened.
Fast forward to today and I've found an even cooler tipi stay and it's right on the spring-fed Geronimo Creek down near San Antonio.
The gallery of awesome photos is below. Keep reading.
Each tipi has 3 queen beds so you'll have plenty of room for the entire family. While the tipi has a private bathroom, it's actually in a building right next to the tipi. You'll also get to enjoy lake access, wifi, a hot tub, a pond to swim, kayak, and more.
Best of all, a beautiful, relaxing stay will only cost you $87 a night. You can't beat that, especially for all the natural amenities and other special touches the owners gave this property.
Look: Airbnb Teepee Glamping at Its Best
Don't just stay in a hotel, tap into your adventurous side and sleep in a teepee.
Oh, speaking of unique Airbnb rentals, it seems Texas has 3 of the Top 20 cities for the most unique Airbnb rentals. Find out where Austin, New Braunfels, and Fredericksburg fall on this list.
If you like the unique side of vacations, then take a look at these other Airbnb rentals here in Texas. Get ready for an adventure.
WOW: 10 of the Most Unique Airbnb Rentals in Texas
More From 600 ESPN El Paso