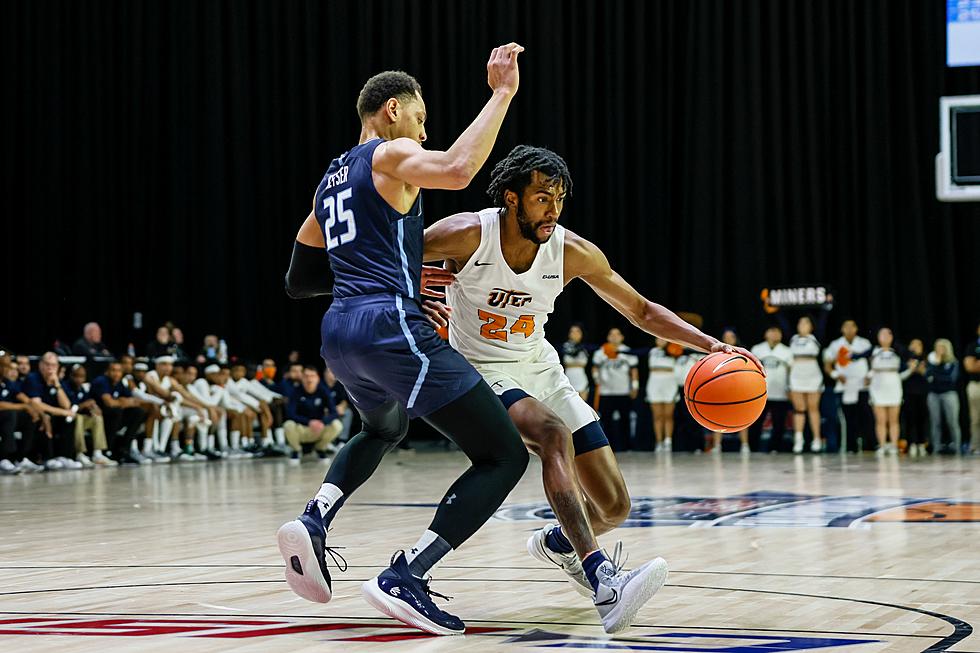 UTEP Point Guard Jamal Bieniemy Declares for the 2022 NBA Draft
Jon Washington/Conference USA
After two seasons at Oklahoma and two seasons with the Miners, point guard Jamal Bieniemy is ready to turn the page on his college basketball career and pursue pro basketball.
Sources tell 600 ESPN El Paso that Bieniemy, a junior from New Orleans, La., has hired an agent and he has notified the NBA that he will forgo his final year of eligibility to play professionally. Based on the recent feedback he has received from basketball agents and scouts, sources said that Bieniemy is confident that he will get an opportunity to play at the next level.
The NBA deadline for college underclassmen to apply for early entry is April 24, according to the NBA league calendar. If a player wants to withdraw from the draft to maintain college eligibility, there is an NCAA deadline of June 1.
In 2019, the NCAA established a new rule that said student-athletes are allowed to hire an agent without losing their college eligibility.
In this case with Bieniemy, sources say that he's finished with college basketball and the point guard expects to have other pro basketball opportunities if he doesn't get picked up by an NBA team.
The 6-foot-5 versatile guard experienced a stellar season under first-year head coach Joe Golding. Bieniemy received third team All C-USA honors after averaging 14.7 points, 3.5 rebounds and 4.0 assists per game. He transitioned into more of an adaptable role this year at UTEP, where he played both on-ball and off-ball. Defensively, he can guard anyone in the backcourt and lifted the Miners by averaging 1.5 steals per game. He shot 40% from the field and 36.2% from 3-point range.
At Oklahoma, Bieniemy averaged just under 5.2 points per game in each of the two seasons he spent as the starting point guard for the Sooners. His role increased when he first transferred to UTEP under Rodney Terry, as he averaged 8.6 points and 4.0 assists in 2020-21.
This year when the Miners lost Keonte Kennedy to a foot injury in December, Bieniemy was called to step up and help lead the group alongside fellow guard Souley Boum in C-USA play. Bieniemy reeled off an 11-game streak of scoring double figures in conference play, including a monstrous, career-high 36-point performance (13-of-22 shooting) en route to a 72-70 win against Rice. He did not play in The Basketball Classic postseason tournament due to a small ankle injury, from which he is fully recovered from now.
The 2022 NBA Draft will be held Thurs., June 23 at the Barclays Center in Brooklyn. It remains to be seen which other UTEP players could pursue a professional basketball career, enter the transfer portal or stay for next year.
All The Big Moments From UTEP Football's Win Over Bethune-Cookman
The UTEP Football team defeated Bethune-Cookman 38-28 last Saturday night to start the 2021 college football season with a 2-0 record for the first time in 16 years.
More From 600 ESPN El Paso